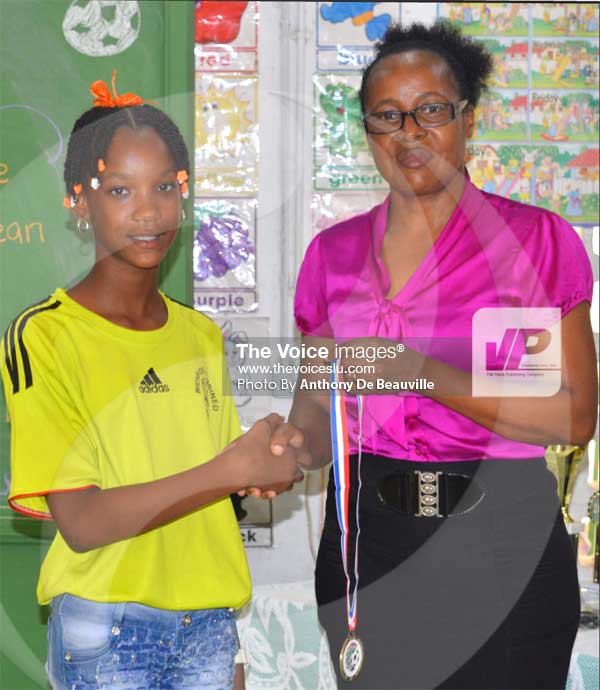 There was only standing room available at the Richfond Combined School on Wednesday afternoon when it celebrated excellence following its 1 – 0 victory over Aux Lyon Combined in the Education District 5 football competition earlier in the week.
The afternoon also saw the students from Dennery Infant and Richfond Combined doing a popular musical rendition, followed by DerniereRiviere Combined School with a poem that had the audience on its feet.
In addressing the gathering acting Education Officer for District 5 Martineana Smith congratulated the top winners, but went on to encourage the other schools for trying hard and to continue working for the top spot the next time around.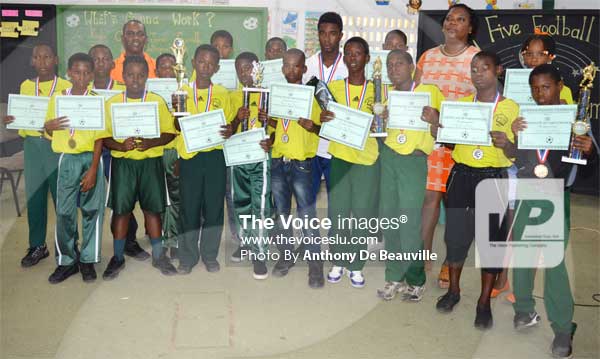 Smith said, "In District 5 we love a competition. It is good, but it has to be healthy. When you participate in sports you have to aquire a lot of discipline, because it is not easy to lose. We have to accept when we lose as well. You have to work harder the next time, but the mere fact that you represented your respective schools you are all winners in your own right.
"The amount of enthusiasm and the level of interest I see you have in sports, if you will take that enthusiasm into the academics I know everybody within the district will do well".
School principal Sonjane Marcel – Ettiene said she was pleased about our phenomenal performance, the fact that our boys were able to play so many games and emerge as champions without one goal being scored against them."
She added: "Richfond Combined is a school that champions sports. International football player Zane Pierre played when he attended this school. We have had some outstanding players over the years as well. What has contributed to our success in the various sporting disciplines is the fact we have embraced the National Initiative to Create Employment (NICE) coaches. We also ran a comprehensive programme at the school that includes academics, sports and arts. In 2014 we finished in second place in the district in track and field and I am hoping we will emerge champions in 2016 because we feel we are on a winning streak".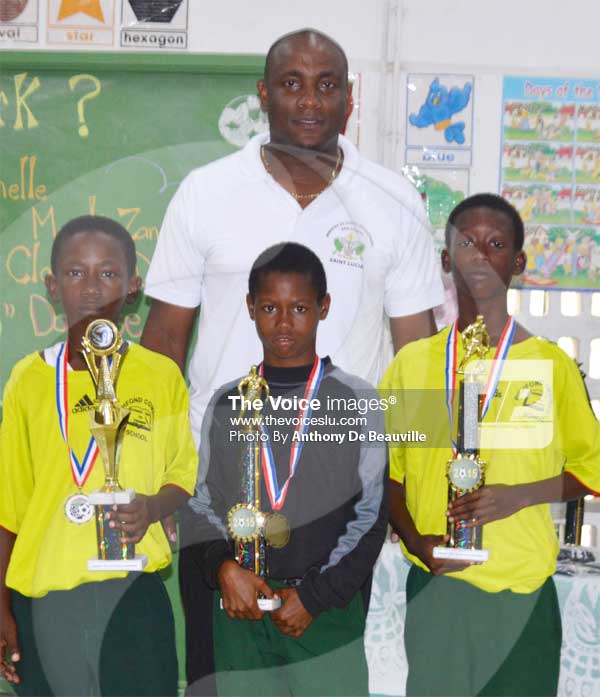 Minister for Youth Development and Sports and Parliamentary for Dennery North Shawn Edward congratulated the school team for their outstanding performance in this year's tournament,.
"If I happen to be the Minister responsible for sports next year, every single team from the nine schools in District 5 will be getting a set of football uniforms. In addition with the inter house track and field meet in 2016 every school in the District will be provided with medals to run their sports meet".