This is another in a series of articles intended to expose our readers to pertinent information regarding their fitness efforts. It is produced mainly on the basis of research done by Rodriguez "Rodja" Constantine, who's a Fitness Consultant, the owner of REPTS (Registered Exercise Professionals & Therapists) and co-producer and host of THE FIT FACTOR on Rhythm Fm (95.5). Rodja has over 20 years experience in the field.
Five Essentials for a Great Home Gym
WHEN you've set up a home gym, it's all about you: That means you can stage your own abs class at 3:00 a.m., hurling curses as you're feeling the burn. But your newfound independence comes with a challenge: When it's just you, the mat, the rower, some dumbbells and the sound of your neighbour's barking dog, who's going to give you tips on your Russian Twist, or tell you when you're not adequately isolating your biceps as you curl?
No worries. With the right equipment and expert advice, you can turn a scary proposition into a winning workout strategy. Just be sure to work these five essential elements into your new fitness temple:
1. Choose your cardio smartly. Elevating your heart rate and sustaining it for 20 minutes or more can be a boon to weight loss, cardiovascular health and muscle toning. So what will it be? If you want only one machine, a treadmill is the most versatile cardio vehicle. For a lower-impact session, an elliptical trainer, a stationary bike or a rowing machine are all more joint-friendly. Likewise, a recumbent bicycle isolates the lower-body for those with back issues.
2. Get the most from your gear. Strength training helps you burn fat, improve flexibility and reinforce circulation and balance. The equipment you choose—whether that includes free weights, an all-in-one bench or resistance bands—depends largely on your goals. Free weights are great for targeting specific muscle groups, though they call for guidance and practice to master effectively. In any case, a utility bench is a fine complement to any weight set; it helps to refine your form and isolate muscle groups.
Inside Tip: REPTS help put those new free-weights to work with its workout design service.
3. Build your playlist. Legendary running coach Jack Daniels notes in his book, Daniels' Running Formula, that elite runners take about 180 strides per minute. Keep that pace by moving to tracks like "Electrify, " (Beastie Boys), "Vacation," (The Go-Go's) and "All Together Now," (The Beatles), among many others.
4. Take a look at yourself! Who's got the greatest lats of all? There's no greater motivation for getting fit like looking at yourself in a full-length mirror; and not in that, "look at that gut" kind of way. Rather, to paraphrase super-blogger Dan Pearce, "Mirrors show you who you are, who you were and who you want to be."
5. Sweet inspiration. You're going to need some help building and evolving your programme. A fitness app—whether it's one that helps you track your workouts and work towards goals, or something more comprehensive–is going to keep you using your new space and stay in the game.
So now you have barbells clanging and the Beastie Boys in the house–and you're seeing results. That's great, though you may want to keep your newfound enthusiasm on the DL. This is, after all, your personal temple of fitness: Who wants to wait for the treadmill? I prefer to do burpees.
Join Rodja next week for another very informative article. In the meantime here's a fitness programme to help you shed unwanted pounds, trim excess body fat, and sculpt a lean body. Each week, the workouts will become progressively challenging to keep you motivated toward your fitness and weight loss goals. Each exercise should be performed in sequence with one day of rest in between and each should eventually be completed within 30 to 45 minutes. Personalized programmes are also available for a nominal fee. You may also contact Rodja) or visit our website at reptsfitness.com or our facebook page at faceboook.com/repts.fitness for more information and videos.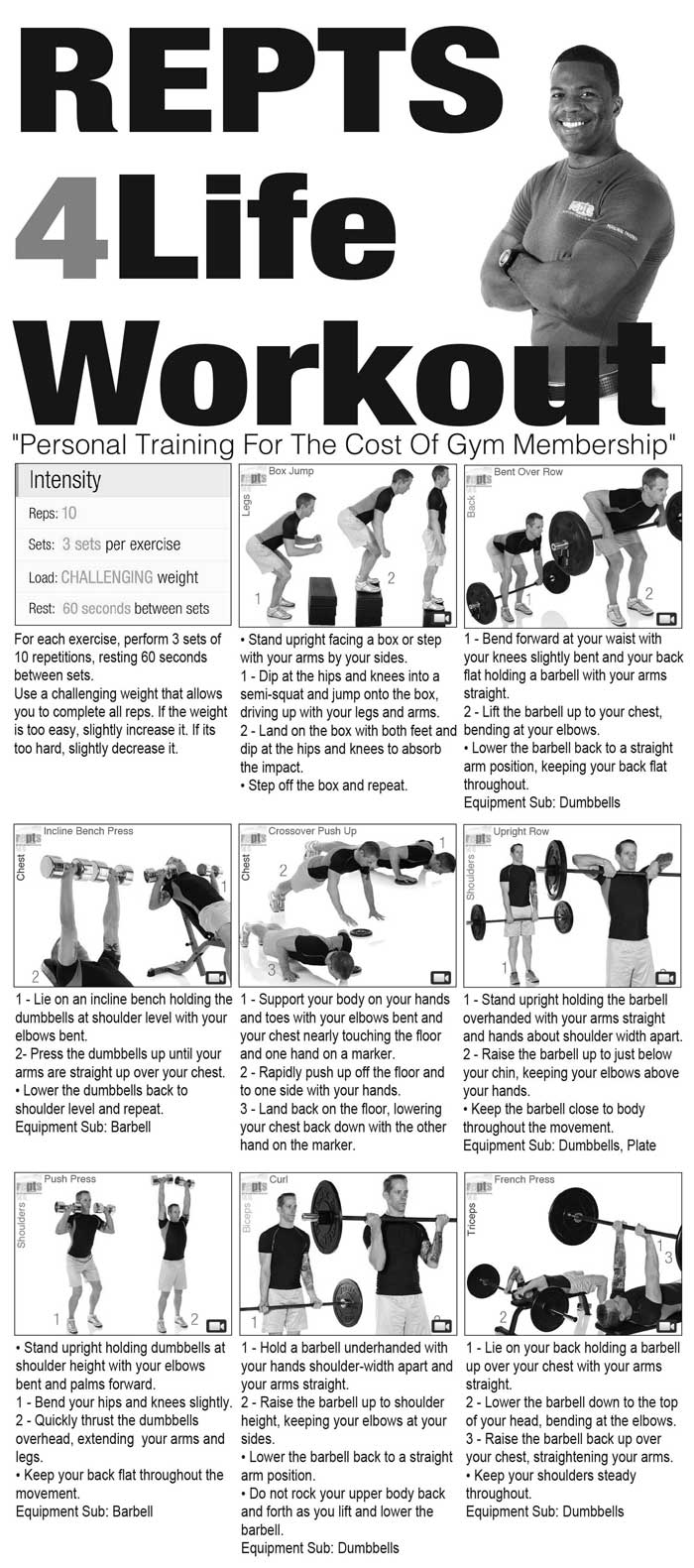 REPTS ( Registered Exercise Professionals & Therapists) is a Personal Training Studio located both in Castries and Rodney Bay. REPTS offers all inclusive upgradeable fitness packages (Personal and small Group Training, Body Analysis, Nutrition Counselling and Planning, FREE Gym Membership, Classes and etc.) for one affordable monthly fee. Rodja also designs long term fitness plans and short term workout routines for use at home, your current gym, or when travelling. Skype Training is also available for those who live abroad or travel too frequently to maintain a consistent training programme at home. Call 758-722-3763 to schedule an FREE consultation and trial session. Visit repts online at reptsfitness.com on facebook at facebook.com/repts.fitness. Call for details about our current special. 722-3763.