By Jackie Cherebin-Weekes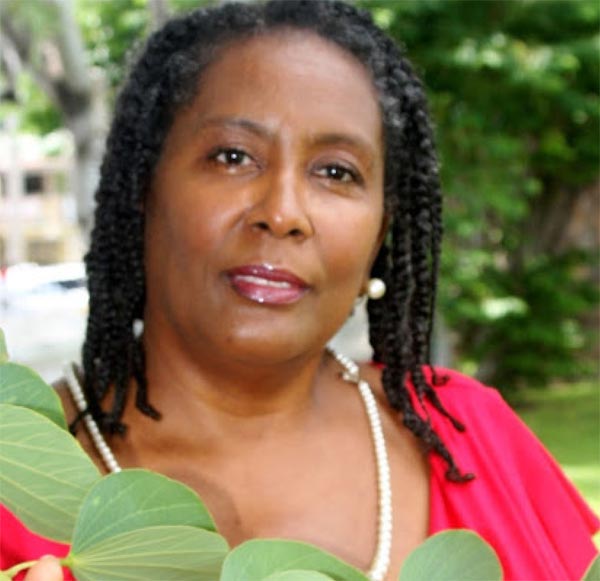 THIS week saw the launch of 'The Plum Tree' by Martha A. Blanchard, at The Cultural Development Foundation Conference Room.
The function was attended by fellow artistes, family and friends who came to celebrate a great milestone in the literary society of Saint Lucia and welcoming the newest author and children's writer.
"The Plumb Tree is about two friends Pella and Stacia who have big plans for a summer of fun on Helen island.
When tragedy strikes, for Pella's family, her life changes as do her chances for excelling at the Common Entrance Exam and getting into a top Secondary School.
Determined not to be separated, the friends must work together to beat the odds and rise to the top of their class".
Blanchard was born in La Clery, Castries and grew up in Hospital Road, Castries. She attended the Ave Maria Primary School, The Saint Joseph's Convent and graduated from The Girl's Vocational School.
Blanchard worked for a short while in Saint Lucia at The Royal Bank of Canada. She later migrated to the U.S.A where she continued her education and obtained a Certificate in Banking before beginning to work towards a first degree in Political Science.
On returning to the Caribbean in 1986 she continued her studies at the University of the West Indies, Barbados Campus. In 1988 she returned to the United States gaining certification at the Fashion Institute of Technology. Finally in 1994 she completed her first degree at Saint Francis College in Brooklyn, New York, graduating with a Bachelor's of Arts degree with honours in the field of Political Science and Government.
She continued to pursue her writing with her first published titled 'The Courage to Create' was published in The Star newspaper in 1985. In 1994 she also published with the Star, VOICE and Mirror newspapers. Two pieces stood out: one being her escape from 911 while vacationing in New York City and her interview with the renowned Black intellectual Aime Cesaire of Martinique. Another piece of work titled 'Christella Long', a children's short story recently got published in the Caribbean Writer Magazine.
In 2010 Blanchard won a scholarship to attend a Workshop for Children's Writers with the Highlights Foundation, in Chautauqua, Pennsylvania.
Her tutor at the Workshop, Ms. Christine Taylor Butler, an established African American children's author, read two of her works, 'The Plum Tree' and 'Finding Amazona'. She received immediate response from her tutor informing her that 'The Plum Tree' was the work which she should seek to publish.
In 2014 having retired early from her career in the public service, and feeling compelled to pursue full-time, her new life as a writer of children's stories, songwriter and screenplay writer, she became a member the Association of Children's Authors and Illustrations of Color (ACAIC) based in the United States, and commenced her new life as a writer in her community of Ciceron.
In 2014 she submitted her 'The Plum Tree' to a small Caribbean Publishing Company called Caribbean Reads which is based in Saint Kitts. Her work was welcomed. She had finally found her home. She immediately forged ahead in perfecting her writing under the critical guidance of Carol Mitchel, the Publisher, leading to the publication of her work.
It has been the sentiment of many who attended the launch of 'The Plum Tree' on Thursday evening that this book should be selected as a text book in the educational system of Saint Lucia and the wider Caribbean. The writings reflect the true lifestyle of the average Caribbean family and community and would be of interest to children of nine to eleven years of age as they would be able to relate to the circumstances in this work of Martha A. Blanchard.
The Plumb Tree is available at Barnes and Noble and Amazon online and also Kindle. The author will be available for signing of her book at A. F. Valmont in Rodney Bay on Saturday December 12.