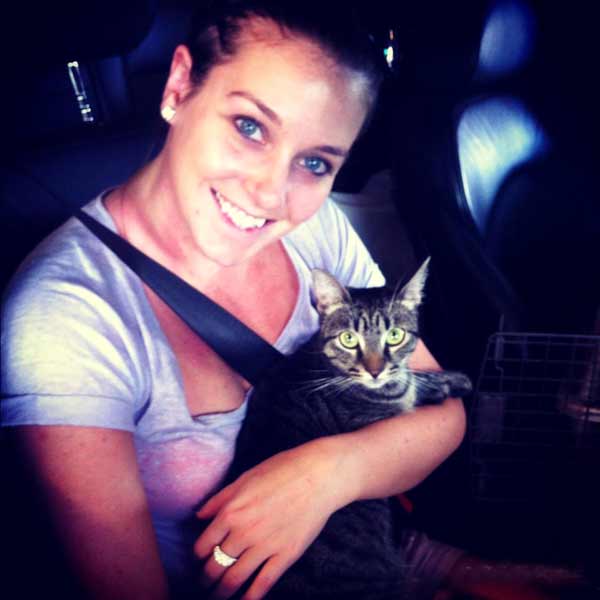 WHAT do you call a person who freely dedicates her life to animals and goes one step further by doing so in a foreign land in a bid to not only give a voice to the voiceless but to educate the nation about showing love, compassion and much needed care for its animals?
In my books, I call her a hero/angel and that is exactly what today's FITC, Charlene Penney is.
The 28 year old Canadian has been coming to Saint Lucia for the past five years and has now lived in Soufriere for over a year.
Whilst working part time for AnseChastanet and Jade Mountain resorts, she uses every spare moment helping stray dogs and cats that have been abandoned .
It is a sad reality that many animals in St. Lucia are generally considered to be unimportant and the number of stray or dead animals on the streets is alarmingly high.
Penney says she always told herself that she wanted to do something that she loved and so she has created the perfect schedule which is balanced between the work she enjoys and her true passion of animal welfare.
The VOICE: When did you realise that you had a true passion for animals?
Charlene: I have always liked animals but I first found my passion for helping animals in 2008. I was living alone at the time and during that time I was diagnosed with a type of cancer. Thankfully it was caught early. However, I had to endure chemotherapy and treatment. Because I was alone during that time, the only companions I really had were my animals; I felt that they could sense my struggle and they gave me so much love and support, it's hard to describe but it almost felt like they took the pain away and were my therapy. After I got better I decided that I would do everything I could to help animals in need, the way they helped me.
The VOICE: What is it about animals that you love so much?
Charlene: I love their ability to love with no limits. They have so much to give, despite the fact that so many of them have been treated so poorly their whole lives. They forgive, they love unconditionally, but they hurt like us, they get sad like we do– they have all the same feelings as us, they just can't say it. That's why I think I love animals so much, because I want to give the voiceless a voice.
If you treat an animal right they will be your most loyal follower. They would fight and die just to protect you, if that isn't love then I don't know what is.
The VOICE: What is life like as an animal lover in St. Lucia where generally, animals are not really regarded as important?
Charlene: I like to think positively, where some people may feel hopeless and frustrated at the lack of importance placed on animals, I rather see it as a massive opportunity because there are so many chances to talk to people and help educate them on proper animal welfare, and I find most people are very willing to learn.For example, whenever I stop to help animals on the street I often gather a lot of attention and I use that chance to teach people what to do in those situations so if they are ever in a similar one, they know what to do.
The VOICE: You mentioned that you see animals on the streets and you stop and…adopt them. Why do you do this and how do you manage expense and resource wise?
Charlene: This is the most difficult part of running an animal welfare organization like HelpAWS. The main reason I work at the hotels is to help fund HelpAWS but I do it because I know that in the future, once we have more awareness and more volunteers that the organization will be able to support itself. I have been lucky to also receive great support from my family and friends and slowly as word spreads I have received donations from supporters all wanting to help animals in Saint Lucia. Animal neglect is an issue the country faces collectively. When tourists come to Saint Lucia and they see the horrible state animals are in it leaves a negative view of the island, with tourism being the largest creator of jobs and money in the economy in Saint Lucia, we cant afford to have this negative perception of the island.I think one thing people don't realize though is that there are other ways to help apart from donating money. Old towels and blankets, bedding, dog bowls, all are extremely useful, as well as any material that can build a rudimentary shelter.
The VOICE: Tell me about "HelpAWS".
Charlene: HelpAWS is my organization that I started in 2013 since I first came to the island in 2010. This was one of the first times I had seen animals being treated so poorly. Ever since then I knew I was meant to help animals in Saint Lucia and when my partner and I moved to the island I knew we had to do something. HelpAWS stands for Help Animal Welfare Saint Lucia.
Our mission is to enrich the quality of life in Saint Lucia for both people and animals through education, providing care to stray and injured animals and controlling the companion animal population through spay and neuter.
We believe that every animal has the right to be healthy, happy, and free from abuse, neglect and cruelty. We educate and inspire communities on proper and responsible guardianship and humane treatment of all animals. We are committed to reducing the over-population of cats and dogs through spay and neuter programmes. We provide shelter, professional and personal care to sick, injured, abused and/or abandoned animals and we take pride in being open, honest and committed to our work.
We value our supporters and partnerships with individuals and communities
We have a website www.helpaws.com and a Facebook page www.facebook.com/helpaws where people can keep up to date with what we have been doing and see all the animals we currently have up for adoption.
The VOICE: Doesn't it all get overwhelming at times? Like how are you able to keep up with so many different animals and their varied personalities?
Charlene: There are good days and there are bad days. Currently we have close to 20 dogs/puppies and around 10 cats/kittens. In the past year I have had over a hundred dogs and cats come through our organization and have spayed and neutered all of them. I spend a lot of time training the animals and ensuring they all get along. I also potty train them and teach them basic commands. By doing this it gives them the opportunity to grow and I get to know their personalities, which is really important because then I am able to match the dog with those wanting to adopt an animal so they are less likely to returned.
The VOICE: What goes through your head and heart when you see animals being mistreated or just left to fend for themselves on the mian streets?
Charlene: I get frustrated for sure, but once that passes I roll up my sleeves and get to work helping them. There is hardly ever any time to grieve or think about how horrible animals have been treated, all I can think about is how I am going to fix it and make them better. The most difficult part of what I do is when I find an animal suffering on the street and it's too late to save them. I feel overwhelmed and defeated, like there are just too many that need help. It's the hardest part because I know that so many have and continue to suffer without ever feeling love. But then I realize that there are many animals that need us and it makes me want to fight and work even harder to give them a voice and be a stronger advocate for animal welfare.
The VOICE: What do you think is the main reason behind the high number of animals in St. Lucia that are neglected and/or abused?
Charlene: I think a lack of education on proper animal welfare and lack of spaying and neutering is the main cause for it. Many people have a negative perception of neutering that is so false. Once people start understanding the importance of spaying and neutering, I think less animals will suffer on the street. People have good hearts, they just need to know how to show it and once they know how to do the right thing, I believe they will.
Having said that there are cases of deliberate abuse of animals and that is something I have no patience for. We have animal rights laws but they are not enforced.
I strongly believe we need to change this but it is not something that can just change over night.
The VOICE: What was the worst case of animal abuse/neglect that you have witnessed and what came out of it?
Charlene: I think the one that sticks in my mind the most is the case of Wyatt, a dog I rescued several months ago. It really sticks in my mind because of how brutal his injuries were. He had a severely mangled back leg that had bone sticking out of it, his other hind leg was broken and his hip was dislocated. On top of that he had a skin issue causing him to lose almost all of his hair. When I found him on the street I immediately brought him to the vet who told us that it seemed as if he was crushed and run over by a car and that he must have been walking around with his injuries for weeks. His leg had to amputated, and had we not found him when we did he would have died from infection. We've had him for several months now and although it is difficult for him to walk, he is now doing much better and all of his fur has grown back. He has actually turned out to be a fantastic guard dog and is very protective of us.There are many other cases that are also quite terrible. For example, a few weeks ago I rescued a puppy in the gutter which was thrown out of a car and the driver told the locals that if no one picked her up he was going to bury her alive. I quickly rescued her and now she is living a happy life in Canada.
The VOICE: On the flip side, what has been your biggest achievement since you began caring for animals?
Charlene: It actually happened last week. HelpAWS has recently partnered with Taj Weekes' TOCO, and Caribbean Spay and Neuter and we brought a number of vets to Soufriere and Castries to provide free spay and neuter services to low-income families and any strays we could catch.It was a gruelling week of work full of blood, sweat, tears, and joy. There was a great turn out and we had many volunteers from the communities we visited. All of us worked so hard, one of our volunteers, Crystal, actually collapsed from exhaustion because we were working such long days. This just goes to show that there are amazing people who really do care about animals in Saint Lucia.
The VOICE: What would you like to say to the culprits behind animal cruelty and neglect?
Charlene: I have nothing to say to them. There is no excuse for deliberate cruelty, whether it is inflicted on people or animals. Eventually their own bad deeds will catch up with them.
The VOICE: Finally, what would you like to say to those people out there, rich or poor, who treat their pets like they're part of the family and go all out for them as opposed to those who don't care much for or about animals?
Charlene: I say a big heartfelt thank you. I know the reward in treating your pets like family and those who do so give me great hope that this is not a fool's errand and there will be change in the future! And in the same way that those who mistreat animals will see their actions catch up with them, so will those who treat them well. A good deed will always be recognized and rewarded.