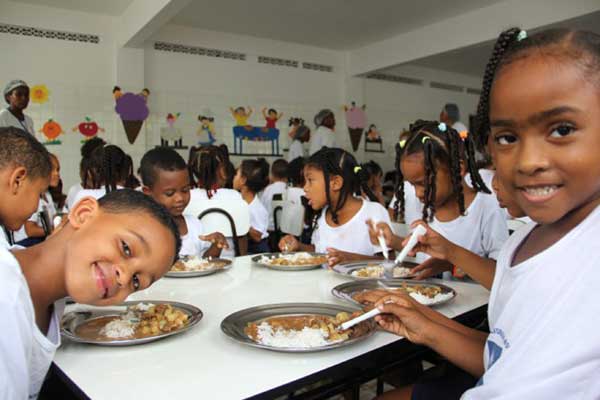 ALMOST one year ago, the Government of Saint Lucia confirmed its commitment to joining the United Nations Zero Hunger Challenge by collaborating with the Food and Agriculture Organisation and the Government of Brazil in hosting the launch of the Zero Hunger Challenge and the Signing of MOUs to strengthen Saint Lucia's School Feeding Programme.
On November 3, 2014 three Government Ministries namely; Agriculture, Education, Health and Social Transformation officially agreed to collaborate in contributing to the Zero Hunger Challenge by attempting to connect agriculture and food production to every sector of society.
In February 2015, The Brazilian Corporation and the Food and Agriculture Organization (FAO) made a commitment to Saint Lucia with a new initiative; "Strengthening of school feeding programmes in the framework of the hunger free latin America and the Caribbean 2025". Two schools have been selected as a pilot project for this initiative namely the Marchand Combined School and the Belle Vue Combined School, targeting one in an urban area and the other rural area respectively.
The Sustainable Schools initiative seeks to strengthen and develop family farming and local markets; community involvement and support, students sustaining high-quality health and nutritional practice, acquiring a passion for agricultural farming, and ensuring that every child will stand hunger-free.
A national School Feeding Committee was appointed to oversee the implementation of the school feeding programme. The committee consists of the following members : Sunita Daniel as Chairperson, Vincent La Corbiniere, Vernet James, NanshaMedard, Chadley John of the Ministry of Agriculture, Marietta Edward, Cyrillia Lewis, Janet Mongroo of the Ministry of Education, Lisa Hunte-Mitchell, of the Ministry of Health, and Bernadia Regis of LUCELEC
There are 19 participating Primary Schools around the island, but it is anticipated that every school will be included as the programme progresses. This programme is thriving among the selected schools and is meeting its objective to execute good governance and management of hunger and poverty by integrating the efforts of all social institutions which serve the needs of the indigent or under privileged.
The following institutions have supported this cause tremendously:
+First Citizens Investment Services,
+St. Lucia Electricity Services Ltd (LUCELEC),
+St. Lucia National Lotteries,
+Caribseed Ltd,
+Financial Investment & Consultancy Services Ltd (FICS),
+SMJ St. Lucia Limited Ltd,
+WIZO Ltd,
+Beachcomber Ltd,
+Carasco& Sons Ltd., and
+Sagicor