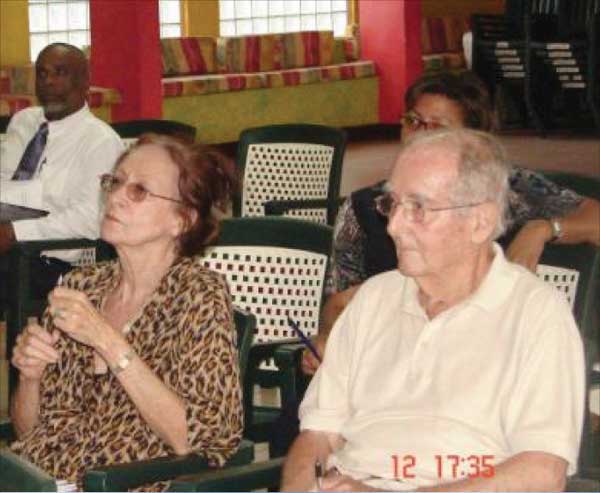 THE St Lucia National Trust (SLNT) has paid tribute to two expatriate members who passed away within a fortnight of each other this month.
The SLNT described Geoffrey Jennings-Clarke and Maria Grech as "two valuable members" and said their respective legacies will live on.
"We hope that all members will follow their examples and give of their time for the conservation of our heritage for the enjoyment of present and future generations", a statement said.
It described Jennings-Clarke as one of its long serving members, who epitomized what a great member and supporter of the Trust ought to be.
The SLNT said: "He was a regular at all our meetings and field trips and provided guidance to the organization through his interventions at these events. In his own quiet, forcefully humble way, Geoff was a consistent and persistent advocate for heritage and environmental conservation. He, along with Rip and Julie van Camp, initiated discussions with Mr. Christopher Lutz, owner of Point du Cap, and convinced him to donate the property to the Trust. They also started the Friends of Point du Cap, a group of Cap Estate residents who supported the transfer of the property and raised funds to support the effort.
"His professional life as an insurer, and connection to the Saint Lucia Naturalist Society and the National Research Development Foundation are manifestations of his dedication to conservation and business development in Saint Lucia".
Maria Patricia Grech was born in Portsmouth, England in 1936 and migrated to Saint Lucia with her husband and son in the early sixties. Her involvement with the Saint Lucia National Trust dates back to the early eighties when she joined the Trust as a Life member. Subsequently, she was elected to Council, a position she retained until 1996 when she opted not to seek re-election.
Upon retirement, Grech indicated her willingness to serve on Council appointed committees and gave herself freely to the following: Research and Publication Committee; Programme Committee and the Pigeon Island Committee. A prolific writer, with an eye for detail, Ms.Grech utilized her skills editing various Trust publications among those, The A – Z of Animals Found in Saint Lucia and The Management Plan for Pigeon Island.
In addition to serving on Council appointed committees, Ms.Grech represented the Trust on the Saint Lucia Tourist Board and the Biodiversity Committee of the Ministry of Agriculture, Forestry and Fisheries. An avid writer she was best known for her series of articles "Bush Talk", a wildlife and conservation newssheet published by the Forestry Department in 1981.
The Trust said it was saddened to learn of Grech's passing, adding: "She will be sorely missed as she gave of her time selflessly to advance the goals of the organization. She regularly attended Trust meetings and activities and was always punctual. Her level of dedication was truly exhibited when she agreed to serve on the Research Committee despite her deteriorating health".
Shortly after her arrival in St Lucia, Grech operated The Calabash, a restaurant located on Mongirard Street, which became one of the most popular eating houses on the island at the time.