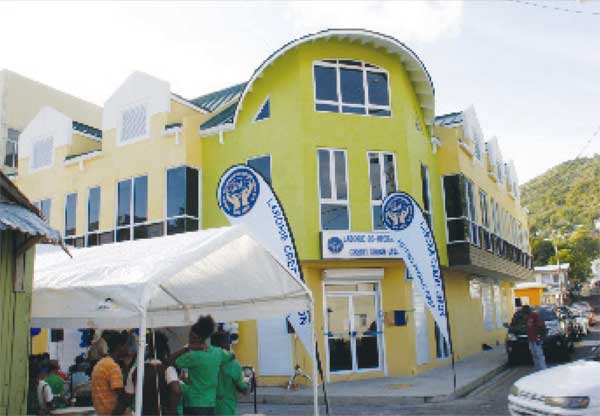 FROM the largest to the smallest, the story of the Cooperatives movement in St Lucia is one of steady and sustained growth over more than 50 years.
At the end of 2014, there were 74,642 persons in St Lucia belonging to credit unions, an increase of more than 2,000 over the previous year.
Among the 16 credit unions grouped under the umbrella St Lucia Cooperative Credit Union League, only two recorded a drop in membership in that period, a possible indication of the challenges being faced in the sectors from which their membership comes from in an era of economic decline.
The St. Lucia Civil Service Co-operative is 54 years old this year, the virtual leader in the movement. It was formed in 1961 when a group of visionaries in the civil service came together. Today, this credit union has more than $150 million in assets including its own building, the former Barclays Bank branch located at the corner and Jeremie Street and Chaussee Road.
The Laborie Credit Union is another big player in the movement. It too has its own building, opened in March last year. Built at a cost of $3 million the building took the Credit Union's asset base past the $100 million mark as well. So too is the Mon Repos (Micoud) Credit Union, 47 years old and the fourth to be registered on the island
The St Lucia Workers' Credit Union is 32 years old and now has nearly 7,000 members and close to $30 million in assets. It has opened membership to all workers in St Lucia, spouses and children. This credit union recorded the highest membership growth of more than 900 among its counterparts last year.
Growing along too is the St Lucia Teachers' Co-operative, which is 31 years old, with over 4,000 members and more than $44 million in assets.
The Elks City of Castries Co-pperative which also has an imposing building on Brazil Street is another of the early pioneers of the movement and has been around for 49 years.
In recent years, a number of new credit unions have spring up, like the Seventh Day Adventist Co-Operative and the West Coast Co-Operative, an indication that the cooperatives spirit not only remains alive, but is growing as well in the country.