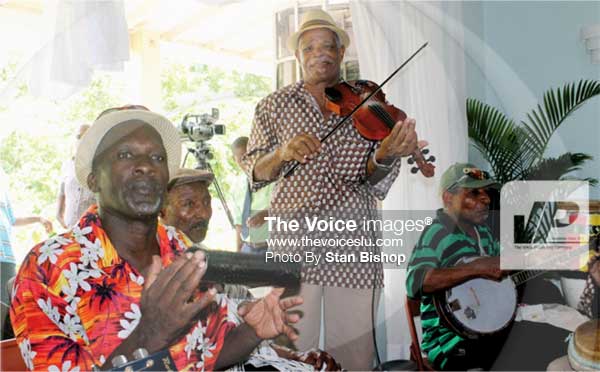 SAINT Lucian folk band, Manmay La Kaye, returned home from Buffalo, Wyoming earlier this month following an eight-day stint there at the invitation of Worlds of Music, a not-for-profit organization that seeks to understand what music means to people.
The seven-member band spent the time there performing and facilitating a few workshops at a series of concerts organized by Worlds of Music, which uses performances, lectures and workshops to look at the role music plays in people's lives and how it changes over time and across cultures. The programme also examines ways in which music is unique to particular communities while remaining a universal human phenomenon.
Augustin "Charley" Julian, 67, is the band's owner/director. He said the band members felt honoured arriving in Buffalo, where posters of their performances were visible throughout the area.
"It was fun to see some of the people I met there score my music," Julian said. "I gave them two of my lakonmet songs and two of my waltz songs and they were able to write it. So now they can actually perform Manmay La Kaye's music in their schools. So this is something that I'm proud of."
Last year, the band went to Fiddle Tune in Seattle, Washington at the invitation of that festival's organizers. Julian said so remarkable was that experience that people are still talking about it.
"We were the centre of attraction in Seattle last year for both the other musicians and people who attended. We didn't return there this year, but are still the talk of the town," Julian told The VOICE.
The band also toured Spain in 2008 on a similar mission, with all expenses being paid on each occasion by the organizers, Julian said, and the band receiving much praise and respect for their musical contributions to the respective festivals.
Manmay La Kaye has won a Gold Medal from the M&C Fine Arts Awards Scheme and also received honours from the Cultural Development Foundation (CDF) and the Saint Lucia Music Awards. Among the other countries where the band has performed are Barbados, Antigua, Guadeloupe, and the United States.
Julian said the festival organizers raise funds among people who have an interest in bringing the best folk music bands from around the world together. Apart from performing, the bands also do workshops with schools and other groups so as to impart their knowledge in a sustainable way. Manmay La Kaye, he said, visited seven schools to conduct such sessions.
The recent Worlds of Music tour, he said, still resonates with him.
"The experience was very important to us because when I reflected, it was amazing to see how far my culture had brought me," the band leader stated.
One of the bands accompanying Manmay La Kaye at the festival was Buffalo's community steel drum group, Pan Buffalo, whose lead player said this in an article published on the Worlds of Music festival: "We're really excited to play with a group from the Caribbean – musicians who have spent their lives playing the melodies and rhythms that we are trying to represent here in Wyoming. It's an honour for us to play with Manmay La Kaye."
Even Worlds of Music organizer, David Romtvedt, seemed impressed with Manmay La Kaye's musical abilities: "Manmay La Kaye is keeping alive the spirit of a particular music and it is a pleasure to be able to bring that music to Wyoming."
Translated, "Manmay La Kaye" means "Children at Home" or "Children from Home". The quadrille band was formed nearly 35 years ago. None of the band members read music; they all play by ear. Its members are: Augustin Herbert Papius (shak-shak), Lucas "Yo-Yo" Jean (shak-shak), Matthias "Marquis" Albertini (guitar), Anthony Preville (bass guitar), Florence Georg Fevrier (banjo), Frederick "Willings" Joseph (drums), and Augustin "Charley" Julian (violin).
The band has produced four CDs, including its latest, "Kavalyé O Damm", and performed at numerous venues and events across Saint Lucia, including the hotel circuit where Manmay La Kaye has regular gigs. Their featured musical styles include the lakonmet, grand rond, widova, Norwegen and polka.
Despite performing at the Saint Lucia Jazz & Arts Festival a few times, the folk band has never been lucky enough to get a main stage gig. While expressing gratitude for the side show gigs, Julian contends that the band's rich talents are good enough for the main stage.
"I'm sure that what we have to offer would be appreciated by the top-class performers coming here as well as they fans. I'm sure they would want to hear a little shak-shak band on stage. However, we never get the chance to come up on centre stage to at least portray our Saint Lucian culture," Julian explained.
Julian said the band has already been put on notice for an upcoming similar trip to the Seychelles. The organizer for that trip, he said, was impressed after hearing the band play some time ago in Martinique.
Closer to home, though, the Manmay La Kaye band will be performing at a few venues for this year's Creole Heritage Month. They will be at the CSA Centre in Sans Souci on October 23 before heading for another performance at the Saint Lucia Development Bank later that day. That evening, the boys will strike up some magical music at East Winds.
Manmay La Kaye performs at Windjammer Landing every Tuesday, at East Winds every Friday evening (where the band has been playing from the time it was formed), at Sandals and Bel Jou on Wednesdays.
Julian encourages Saint Lucians to get to know their traditional music on a deeper level. While he has no qualms about other musical forms penetrating the island's airwaves, ears and hearts, he believes that many Saint Lucians are missing out on a great opportunity by not maintaining and appreciating their roots.
"Let's maintain what we have," Julian said. "Too many Saint Lucians do not know the richness of the folk music we have."