70 Engaged in Entrepreneurial Project.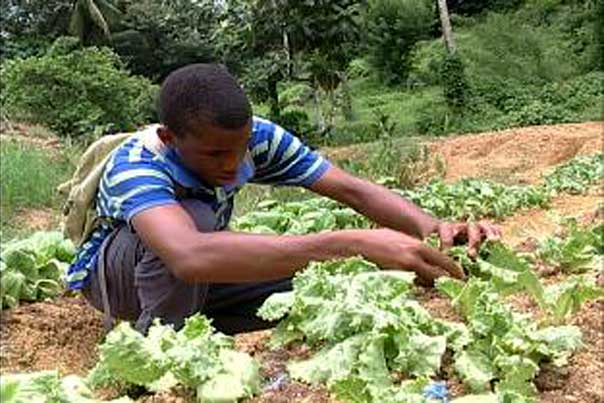 THE Ministry of Agriculture's Youth Agri-Entrepreneurial Project (YAEP) represents one of government's core strategies to promote growth and socio-economic development, fostering a commercialized and an agri-entrepreneurial approach to farming. Much effort is dedicated to "breaking the cycle of rural poverty through agriculture" as agriculture is still a critical sector of the island's economy.
Agriculture is an important source of income and employment to the economy of St Lucia. Latest figures reveal that some 12,300 persons, representing 11.4% of the work force are engaged in the sector. The occupation is particularly important amongst the rural poor, approximately 20 percent of whom rely on agriculture for a living.
The sector, however, is constrained by the slow and low level of technology adoption, the lack of participation by youth and a need for an entrepreneurial approach to the business of farming.
The YAEP project seeks to address this situation. A number of barriers however, exist which prevent the involvement and participation of young and better educated persons in agriculture and fisheries. Among them are: difficulty in obtaining credit, access to land, the capital intensive nature of farm ownership and operation, unattractiveness of agriculture to the young, high risk and drudgery.
The Ministry's Youth Agri-Entrepreneurial Project seeks to meaningfully address the serious youth unemployment situation, reduce the rural to urban drift and its consequential increase in crime, address the aging farmer population problem and effectively improve the country's food and nutrition security status by:
(1) Empowering a cadre of 150 young agriculture entrepreneurs ages 18-35 years to create agricultural companies that will create jobs for themselves and others,
(2) Facilitating the development and access credit tailored to the circumstances of youths to enable their involvement in agriculture,
(3) Providing technical support through access to mechanization, extension and advisory services, involvement in co-operatives, a mentorship programme and agri-businesses and enterprise training for the young entrepreneurs.
(4) Demonstrating the application of best practices, the use of appropriate technology and institution of collaborative mechanisms for the management of sustainable agricultural enterprises.
(5) Providing agricultural land for lease to those individuals who have no access to farming lands.
So far, the project has ensured the effective and efficient use of a number of parcels of land owned by government, which were underutilized, at Roseau (Castries), La Caye (Dennery), River Doree (Choiseul), Beausejour (Vieux Fort) and have developed a medium to long term model for land use.
Phase 1 of the Project is currently being executed. At present there are 70 young agri-entrepreneurs targeted in a wide range of agricultural enterprises namely aqua-culture, api-culture, vegetable production, greenhouse and open field, livestock production, broilers, swine, small ruminant and agro processing.
The Ministry is confident in the belief that if this potential is harnessed, the country can begin the process of agricultural transformation, positioning itself to begin reducing the high agriculture food bill in a very tangible way and ensure a succession of a new cadre of young agri-business men and women.
As we celebrate World Food Day 2015 under the theme "Social protection and Agriculture: Breaking the cycle of rural poverty" the Ministry is confident that by encouraging and providing the enabling environment to our rural youth in becoming masters of their own destiny St. Lucia would certainly realise positive outcomes in the rural communities and the country at large.