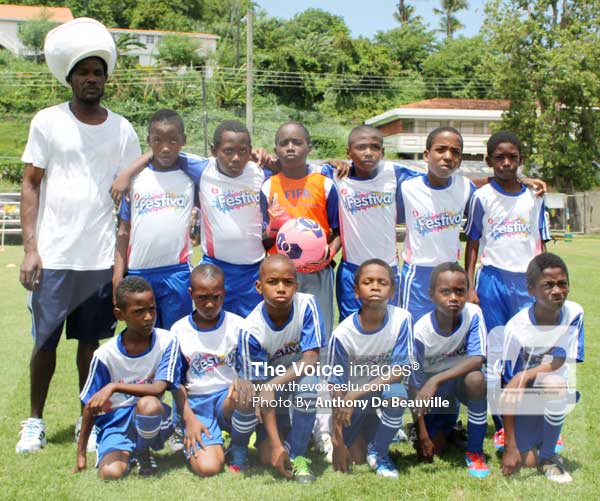 BIG Players Under – 13 player Nas Valcin took his goal tally to eight in three matches as the team defeated Super J Boboville in the ECFH/LUCELEC Youth Tournament.
Valcin who found the back of the nets in his team's two previous encounters had to wait until the second half to overcome a stubborn defence of Super J Boboville. However, his solo effort plus another goal from Adrian Vitalis were enough to secure all the points for Big Players.
In another under – 13 match Flow Lancers FC and FC Pioneers played to a 0 – 0 draw.
The third under – 13 match of the weekend did not take place as GMC United was unable to field a team to take on Valley Soccer Academy.
In Under – 15 action there was an exciting 2-0 win for Super J Northern United over VSADC at the Marchand Grounds both goals coming from Samuel Lawrence
The other two under 15 matches over the weekend both ended in scores of 5 – 0. At Marchand a pacey and nippy Trois Piton team easily handled Roseau Valley. For Trois Piton Glenroy Janvier opened the scoring in the 15th minute to give his team a first half lead. In the second half the Roseau Valley team wilted under the constant pressure and there were goals from Kevin Dupres, Cherquan St. Croix and a brace for Calixtus Evans.
At the SAB Playing Facility, in under – 15 action FC Pioneers were in a no nonsense mood as they got past Valley Soccer Academy by 5 – 0. The first half was a closely fought as FC Pioneers edged out to a 1 – 0 thanks to a 14th minute effort from Ryan Calderon.
After the half time whistle FC Pioneers mounted several goal raids and were able to breach the Valley Soccer Academy defence thanks to braces by Jnnaie Lesmond and Glendon Auguste.