THE stage is set for the showdown in another mouth watering double header tonight at the Beausejour Indoor Facility when the Commercial Basketball League continues in all its glitter and excitement.
From 6.00 p.m. the Royal St.Lucia Police Force plays Goddard Group, while at 8.00 p.m. Renwick and Company will come up against St.Lucia Distillers.
Last night Le Sport took on Sandals High Risers, while Inland Revenue Department played Media Ballers. Upon going to press last evening there was no word coming from the BIF as to which two teams advanced to the semi final round, but as customary The VOICE will keep readers updated in our sports segment.
Meanwhile, on Wednesday evening in the last match of the preliminary round it was a must win for both teams. Any one of the teams who won would qualify for the last spot in the quarterfinals. In this highly anticipated match-up, Goddard Group now Peter and Company Distribution PCD and Digicel 4G Ballers had one thing on their mind, a WIN!!
From tip off, Digicel seemed like they were on 4G speed putting in some work within the first five minutes with a 6 point lead 8 – 2. By the end of the first quarter, Goddard Group had bounced back a bit and managed to be within four points from Digicel 4G Ballers. However by halftime Digicel was still at the top of their game and the score was 30 – 22. The Goddard Group fans were not very happy, but never stopped rooting for their team.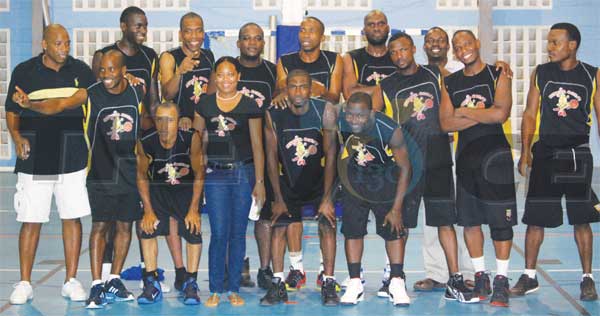 Going into the second half, Goddard Group decided that it was time to impose their winning will on the Digicel 4G Ballers and as such managed to outscore the Digicel 4G Ballers 15 – 10. Goddard was still not in the lead, but this did not deter them. As the 2014 second place team they were not ready to leave this tournament.
Goddard picked up the pace and was right there with their offensive and defensive, likewise Digicel Ballers never let up. With seconds to go in the fourth quarter the game was now 54 all and the crowd was abuzz. No one knew how this would ends. Afoul called Goddard Group at the line with two free throws to make. Everyone's fingers are crossed, some waiting for the miss, some hoping that both would be scored. The Second free throw shot goes up and it's missed but Goddard Group gets the offensive rebound and takes a 2 pointer, shot goes in. Crowd goes crazy, time runs out the game is done. Goddard pulls off the win 56-54 with a lucky second chance off a great rebound. It was all over for the Digicel 4G Ballers who had led the game for almost three and a half quarters.
The KFC player of the game was Andre Louison with a double-double of 23 points and 11 rebounds, 7 steals. He was assisted by Ali Quinlan with 19 points and DilanBiscette with 19 rebounds. For Digicel 4G Ballers, Carlos Solomon recorded 17 points and YeneiMontoute had 14 points and 13 rebounds in their devastating loss.