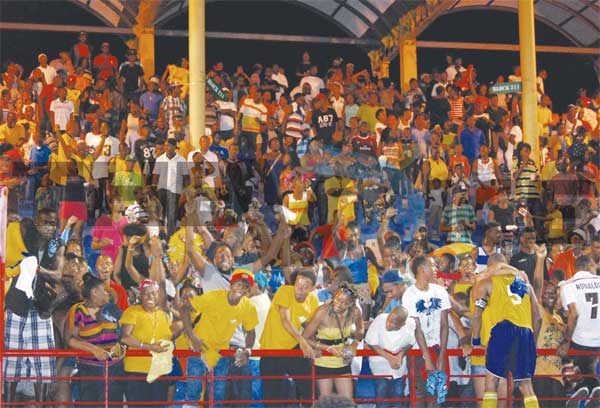 THOUSANDS of sports fans will converge on the Beausejour Indoor Facility and the Beausejour Cricket Ground this evening with Commercial Basketball semi final match up on one side and the Blackheart / St.Lucia Football Association Knock Out Football finals on the other.
At the BCG the highly anticipated entertainment is expected to continue from where if left off last weekend at the Phillip Marcellin Ground in Vieux Fort. The show-piece will kick off with the third place play off between last year's champions Canaries and Soufriere from 5:30 p.m.
The excitement is also expected to rise a few more notches when three time champions Dennery decked in their customary red and white attire will play neighbours Micoud who will be seeking their second hold of the Blackheart title, in their orange and green outfit.
Before the grand spectacle the thousands of fans present will get the opportunity to see the West Indies Women's Cricketers on parade. The women are presently on camp in St.Lucia ahead of their four match ODI series against Pakistan.
The Pakistan team will arrive.
Meanwhile, just a stone's throw away from the BCG the action at the Indoor facility is expected to be electrifying as well. Game 1 will tip off at 6:00 p.m. when quarter final winner 1 Sandals High Risers plays quarter final winner 4 Teachers Union, while quarter final winner 2 Inland Revenue Department will come up against quarter final winner 3 Goddard Group at 8:00 p.m.
The championship game and third place play off are scheduled for next Saturday at the BIF.