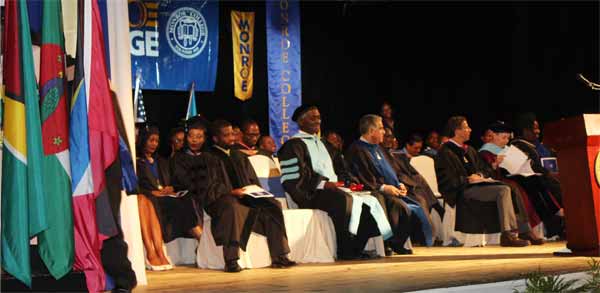 AMBASSADOR to Barbados and the Eastern Caribbean, Dr. Larry Palmer, told students they must rise to meet challenges of finishing work left undone by the generation that has gone before (his generation). "The challenge is not only a challenge", he noted, "it is your obligation", he emphasised.
Dr. Palmer was the keynote speaker at the eighth graduation ceremony of the Monroe College Saint Lucia Campus, last Sunday, at the National Cultural Centre. He took time to review, what he said, were expectations of students of his generation saying that while "we pushed for changes of technology, in matters that affect the human condition, however, we did not meet our expectations of change…We did not end wars, or racism nor did we eradicate poverty as we expected to; in these areas we did not fare well. We find that some things have changed (technology) and that's good; but many have not changed and that is where you graduates come in…you have the responsibility and a charge to root-out corruption, to embrace human rights and to advance the rule of law."
Dr. Palmer is a career member of the United States Senior Foreign Service. He was formerly U.S. Ambassador to Honduras and also served as President and CEO of the Inter-American Foundation, an independent agency that provides grants to Latin American communities to foster economic development. In addition, he has served in Uruguay, Paraguay, South Korea, Sierra Leone and the Dominican Republic, and was a Peace Corps Volunteer in Liberia before joining the Department of State. A native of Augusta, Georgia, Ambassador Palmer earned a Bachelor of Arts from Emory University, a Master of Education in African History at Texas Southern University, and a Doctorate of Higher Education Administration and African Studies from Indiana University in Bloomington.
Over 100 students received their graduation diplomas on Sunday which were conferred by Mr. Marc Jerome, Executive Vice President of Monroe College. Jerome remarked that he had "no doubt that all Monroe Graduates will have great successes" in whatever they choose to do after graduation.
He added: "Monroe College has been educating students from the Caribbean for over 20 years, and every time I meet a graduate from the Caribbean, every time I speak to Monroe students in Saint Lucia, I know that we did the right thing 20 years ago. We have been in Saint Lucia for the past eight years and I know that Monroe will continue to invest in the people of the Caribbean/Saint Lucia, in our graduates and the St. Lucian economy. We expect to see even more successes in the next 25 years."
Acting Prime Minister Emma Hippolyte advised students to "apply the knowledge, share the knowledge you have acquired while at Monroe College." She warned students that their degrees "will not guarantee you a job or career advancement, but your degree is a global passport that will open doors for you… through which you go through without fear or anxiety."