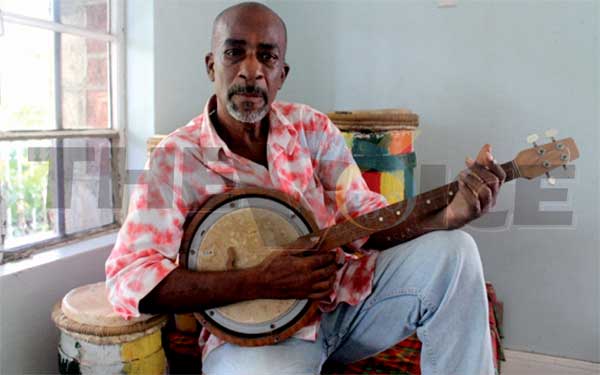 "I think I was blessed, especially for someone who never attended St. Mary's College. I entered a tertiary level education institution with no G.C.E., no CXC, nothing like that. But based on my talents and my ability and how I applied them, I was able to stand out on my own."
These are the inspiring words of George Edward Alphonse whose effervescence many might think has mellowed a bit after rendering many years of passionate and unfaltering service to this country. But under the right conditions, he can burst into a fiery character spontaneously, especially when he laments the pitiful appreciation the arts receive or when he's on stage playing out one of his characters. Make no mistake — Alphonse is no fish out of water.
Popularly known as "Fish", the 58-year-old veteran actor, poet, storyteller and cultural activist was born in 1956 and raised in Castries, primarily in the Pavee/Faux-a-Chaux area. He grew up in the Catholic Church, serving as an acolyte for twenty-odd years at the Minor Basilica of the Immaculate Conception before leaving to study for the priesthood. Along the way, he encountered Monsignor Patrick "Paba" Anthony doing cultural work and research. That was the life-changing experience that made the man we now know.
"I was attracted to doing cultural work and research, so when I returned from the seminary, I got involved in that type of thing. I eventually joined the Study and Action Group, a folk chorale that performed gospel and other forms of music," Alphonse told me.
On most occasions, some of the choir members would sing while the others dramatized the songs. Since he was a better dramatist than he was a singer, Alphonse always ended up being the one doing most of the acting. That's where the artistic journey really started for him.
Alphonse's initiation into the arts in the late 1960s would later see him sharing similar self-discoveries about himself and his island with contemporaries Kendel Hippolyte and Kennedy "Boots" Samuel, with whom he still continues to collaborate on theatrical projects.
Born just eight years after the infamous great fire that decimated Castries in 1948, Alphonse would not have been able to rub shoulders with the artistic giants of the St. Lucia Arts Guild which ran from the early 1950s to the late 1960s and deemed the island's preeminent arts movement at the time. However, under Patrick Anthony's tutelage, Alphonse was able to go into every nook and cranny of the island documenting Saint Lucia's culture.
"That's how I became fascinated with La Rose and La Marguerite, koudmen – everything Saint Lucian, really. There isn't a part of Saint Lucia I haven't been to. Basically, I discovered Saint Lucia – and myself — through the arts," he said.
Alphonse said his deep understanding of the island's cultural traditions have had an immense impact on his own work: his poetry, storytelling and acting. Known for his one-man stage acts, including "Grandpa Goes To Town" and "Man Story", Alphonse said his apprehension of performing in huge casts "often keeps me back and prevents me from improvising", so he feels comfortable with the single-character acts.
Alphonse's involvement in popular theatre to educate people about the environment, traditions, and the Saint Lucia way of life has made him a household name. He has used radio and television to pitch his messages at a citizenry accused of losing its soul at times.
He has participated at CARIFESTA on many occasions and in many capacities: directing a production, acting in a production, or poet/storyteller and in 2003, Alphonse received an award from the Caribbean Community (CARICOM) for his sterling contribution to the development of the arts in the region, particularly in theatre. That same year, the Jamaican School of Arts — which he attended and studied Theatre Arts and Drama in Education years earlier – inducted him into its Hall of Fame.
Commenting on the state of the arts in Saint Lucia, Alphonse said the arts have been under-funded and unappreciated endeavours for too long. While he acknowledged that each Saint Lucian needs to do their part to keep culture alive, he believes government can do more to assist.
"We need to do much more to promote culture here," Alphonse said. "A perfect example is that the subvention for the La Rose flower festival has not increased in twenty years. When I first took up that job, the allocation was about $20,000. When I retired in 2013, it was the same. So there's no room for improvement because without a decent budget, you cannot really do much."
He cited the La Marguerite flower festival which "is really on the decline". With just five community groups existing at this point (and about twelve La Rose groups), Alphonse said that apart from what's happening in the schools, La Marguerite is on its way out. Nevertheless, he said credit must go to those young people joining the movement and keeping it alive.
While employed at the Cultural Development Foundation (CDF) for many years as Events Coordinator with specific emphasis on traditional arts, a job from which he retired two years ago, Alphonse was not only instrumental in seeing the flower festivals flourish but was also a key force in planning and managing events such as Carnival, National Day activities, among other major events.
Today, Alphonse is based at the Folk Research Centre (FRC) as an Events Coordinator where he and the rest of the FRC team are putting preparations in place for this year's Creole Heritage Month which runs from October 1 to 31. Despite the FRC's limited finances, Alphonse said the FRC is fighting against the tide as its valiant attempts to preserve the island's rich heritage competes with other private interest events that often stray from that objective. Nevertheless, he said Saint Lucians are in for a treat when Jounen Kwéyol is hosted in Boguis, Canaries, TiRocher (Micoud) and Laborie.
For a city boy who said he faced the similar socio-economic conditions youths now face in the disadvantaged community where he grew up, Alphonse has undoubtedly given us reasons to be proud of our cultural heritage by learning it, teaching it and doing it himself. Whenever the time does come that he can no longer continue the cultural journey he embarked on four decades ago, Alphonse said he wants to be remembered as having done his part the best way he could have.
"God gave me a gift and I used it to the best of my ability. But I will continue to do it as long as I can and have life. It's hard work but when you've been blessed with a gift, nothing should stop you from doing it. I really appreciate the arts because it's made me a better person," Alphonse said.