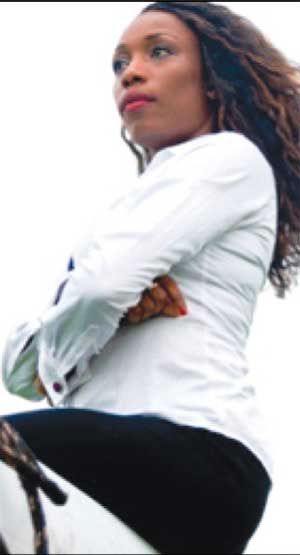 SAINT LUCIAN Davina Lee is one of four filmmakers awarded by the OECS for outstanding work at a regional screenwriters retreat recently held in Antigua and Barbuda.
The initiative was conceived by the OECS Competitive Business Unit and the Association for the Development of Independent Cinema in Guadeloupe (APCAG).
The OECS and the French Overseas Territories in the Caribbean (FCORs) will provide financial and logistical support to the four Awardees to produce their films. The completed films will subsequently be screened at regional and international film festivals as well as distributed to content buyers and consumers regionally and internationally.
This is the most significant production and marketing support package awarded for film production within the OECS to date.
The four were part of a group of 13 writers from Saint Kitts & Nevis, Antigua & Barbuda, Dominica, Saint. Lucia, Grenada, as well as Guadeloupe and Martinique. These writers participated in an eight month training programme that began with an intense 12 day retreat in Guadeloupe. The programme entailed story and script development for short films, with a focus on social and lifestyle issues in the region.
At the concluding session in Antigua the Script Assessors gave high commendation for all screenplays submitted, and were very impressed with the varying styles and film genres which were employed. They also praised the pitches made by each participant in support of their script.
According to awardee Davina Lee, the programme gave her an opportunity to focus fully on her script project and to get feedback from experienced film script doctors and tutors.
"Financing for film is always an issue, especially for the types of stories I want to tell. So many films are not able to go beyond the script or idea stage because of a lack of funds. This gives me an amazing opportunity to produce my film and I am forever grateful to the OECS and APCAG for the funding and technical support" Lee continued.
Lee's film is a magical realism love story and is entitled "The Knot". The other awardees are Clement Richards from Dominica, Michelle Robin Clerc from Guadeloupe and Khris Burton from Martinique who received an honourable mention from the jury. The programme was funded partly with funds from the 10th European Development Fund (EDF) Regional Integration Programme for Trade in the OECS and the Regional Council of Guadeloupe.