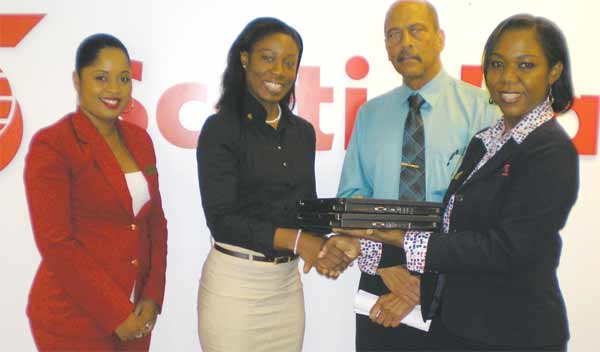 THE New Beginnings Transit Home (NBTH) located at Cas en Bas, Gros Islet, which caters for victims of child abuse has become the latest worthy cause to experience the generosity of Scotiabank's Bright Future Progranmme.
The home which provides a protective and safe environment for 21 children and young people up to 16 years old, has been the recipient of two refurbished computers, sourced by the bank.
Children at risk are temporarily placed at the Home until it is determined that the risk to them has been reduced or removed. At NBTH, the healing process for children in crisis begins by providing them with counselling and other therapeutic interventions which focus on their physical, emotional and spiritual well-being.
One of the major challenges facing the Transit Home is the inability to provide robust educational support to the children due to the absence of basic technological tools such as computers. The lack of computers places the children at the Transit Home at a further disadvantage than their peers as they are unable to conduct research, prepare reports and complete comprehensive assignment tasks.
Scotiabank says it is committed to supporting the communities in which it operates. By bringing together the passion of its employees, the insight of its partners and the spirit of its communities, the Scotiabank Bright Future Programme is helping to support opportunities for children and communities, building a brighter future for everyone.
Meanwhile, the Rotary Club of St Lucia is currently in discussion with The Caribbean Event, a Charitable Organization based in Toronto, Canada, with regard to sourcing refurbished computers for donation to a few schools in rural areas.