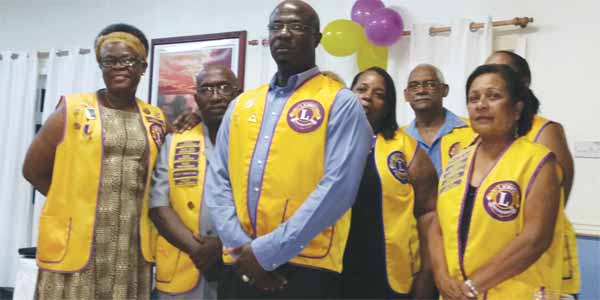 THE Lions Club of Castries recently held its Charter Anniversary and Installation of Officers' Dinner at the Coco Creole Hotel.
The Lions Club of Castries was chartered on June 24, 1967 by the Georgetown Lions Club. This saw the birth of lionism in Saint Lucia with Victor Joseph serving as the first president. The club has grown over the years from being male-dominated to a diverse club, embracing the changes in the policies of Lions Clubs International that allowed women (who served as Lionesses) to become Lions. Since then a number of women have served at the helm of the Lions Club of Castries.
Beatrice Mac Donald, the 47th president was grateful for having been given the opportunity to serve in an era when lionism was changing, and even the face of volunteering. Looking back at her year she highlighted the many highs and lows in a very informative presentation.
One common thread throughout the presentation was the need for Lions to continue to focus on the challenge given by Past District Governor Isaac Solomon to build a path to service excellence, creating value for all stakeholders, empowering communities to become self-reliant; igniting the passion within those who serve and making a difference in the world we live, in the full knowledge that there are people who are counting on us."
The Installation Ceremony for the New Board of Directors to serve for the lionistic year 2015-2016 saw Nial Beaton Sr. being becoming the 48th president. His theme for the year is "Looking beyond with PRIDE". His focus will be on strengthening the bonds with the Leo Clubs of Castries. He said Leos should be seen "as our children" and should be embraced and nurtured so that they will be equipped to take over the mantle of leadership and carry lionism for centuries to come.
Appreciation was shown to a number of lions who had contributed in different roles. The club captured the 2014-2015 District Award for Public Relations.
For this coming lionistic year the International President Lion Dr JITSUHIRO YAMADA has highlighted Peace, Hope, Determination, Teamwork and Uniting people through serve as the central elements of his presidential theme