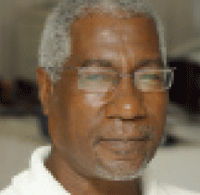 I watched, listened and laughed at the way so many Saint Lucians made such a fuss against or in support of a loud-mouthed MP who was recently shut-up and forced to take his seat in the island's House of Assembly by the Speaker.
The MP, a former Cabinet Minister responsible for road construction and related contracts, had thrown House Standing Orders, rules and regulations of debate through the window and challenged the Speaker for challenging his interpretation of Contract Law.
Never mind the Speaker is also a lawyer and head of a prominent law firm representing contractors, the layman MP reacted with contempt for the Speaker's interjection and questioned Mr. Speaker's offer of a corrected interpretation of his version of a related clause of contract Law.
The ever-loquacious MP asked the Speaker "Since when dat is your role?" and told him (in no uncertain terms) that he ('Mister Speaker') should "Stay out of the debate". Further, the ever-verbally combative MP advised the Speaker (in effect) that if he wanted to be part of any parliamentary debate, he ('Mister Speaker') should contest an election, win a seat and become a MP.
That's no joke. It's all serious. It (all) did in fact happen at the last sitting of the Saint Lucia House of Assembly. Yet, it's also all laughable, considering where — and when — it's happening.
First of all, it's taking place as the island approaches its next general elections — still as far as the first quarter of 2017, but with the major opposition party behaving like it knows it will be called before the end of 2015.
Besides, the main actor in this parliamentary tragicomedy has made no bones about usurping the role of his lady Leader of the Opposition these days, especially when it comes to opening the debate on major bills and motions tabled by the government at each sitting.
The Speaker was indeed correct and right in all he said and did that day. All was within the wide boundaries allowed by the Standing Orders in the Westminster parliamentary chamber we chose to adopt and be guided by at Independence in 1979. But, all of a sudden, especially with elections approaching, the issue has been approached by many with the great partisan divide that increasingly attends almost every consideration at times like these.
I simply laughed because all of those supporting the gladiatorial MP know he was out of parliamentary place. With almost nine years in the House and five years of gubernatorial experience at Cabinet level, the MP couldn't himself not have known he was way out of line. But the opposition has put 'Elections in the air' and is behaving like there's been some form of radical climate change in our political and electoral mechanism that it's now the opposition – and not the government – that decides when elections are called.
Thing is, on the surface, general elections are still officially a way away here. The Electoral Department only this week started its Verification Exercise. The ruling party hasn't even started speaking publicly about elections. Besides, it's still quite uncertain just how many seats will be up for grabs non election day, as the Boundaries Commission has recommended a much-needed (and legally required) increase from the current 17 to 21 constituencies (and seats).
All these may sound and seem as strange political factors to those who don't fully understand the nature of some of the practical nuances and vagaries of Caribbean politics, especially under the West Indian parliamentary system that has evolved within CARICOM (and the OECS) from colonialism to — and through — Independence.
Fact is, this Caribbean we live in experienced the long reign of parliamentary democracy even before Britain, where it was supposed to have been born. Indeed, Barbados has an English parliament before Britain got to build its House of Commons. West Indian lawyers trained in the UK returned home during the latter colonial years and have over time fashioned laws and Constitutions in these parts that not even the British can get through either the House of Lords or The Commons today. (In most former British CARICOM states, for example, laws passed at Independence give all the 'rights' and 'freedoms' we may wish, but all subject to an ultimate paragraph that says (something like): 'Notwithstanding all the above, the final decision is left to the discretion of the Minister.'
This is also a part of the world where parties can win all the seats in an election – and not only now. Back in the late sixties a party in Saint Vincent and the Grenadines won all the seats up for grabs, resulting in the new Leader of Government appointing his wife as Leader of the Opposition. Think that was funny? Fast forward to the end of the 20th century and an old Opposition Party in Saint Lucia (in the 1997 elections), under a brand new leader, won all but one seat up for grabs. And fast-forward again to the start of the second decade of the 21st Century and an opposition party in Grenada, Carriacou and Petit Martinique won all the seats in the last election in the triple-isle OECS/CARICOM member-state.
At the wider regional level, look at Guyana, where the two dominant parties have both outdone each other at the polls in the past two dozen years by entering into unlikely alliances and changing their names after their respective founder leaders died.
Then look at Trinidad and Tobago, where, on the very eve of the next general elections, a well-heeled, unapologetically verbose and acclaimed hyperbolic former Minister of Sports — and National Security — has the world's media floodlights spotted squarely on allegations that world football money could have helped finance the party that won the last general elections in the oil-rich twin-island Caribbean republic.
All that – and more – is happening within the OECS and CARICOM section of the Greater Caribbean, all within the monarchic realm of the still very royal British Commonwealth. (That's not to say the French, Dutch and Spanish or Portuguese-speaking parts of our hemisphere don't have their own fair or overdose shares of equally strange and nearly unbelievable political and parliamentary nuances, but that's for another column…)
All that said, however, I still believe – and still quite strongly – that despite all the criticism from within, our parliamentary 'unbelievables' are nothing near any of the visible 'believables' we see and hear on our TV and radio or Internet news happening in other parts of our planet.
In Asia, for example, parliaments as young as ours erupt in volcanic and/or violent ways that we would still find unimaginable. Like: Parliamentarians in Taiwan, Japan or The Philippines standing on tables, throwing objects at each other and engaging in open fist-fights on the House floor, each time forcing suspension or cancellation of proceedings and necessitating intervention and separation by police and security personnel; or that time when an elected American representative brought a hardly hidden assault rifle (under his jacket) into one of the Houses on Capitol Hill, just to demonstrate how security was lax at the entrance.
No, I don't think we're in the league of nations that can be characterized as engaging in what others may describe as utterly disgraceful parliamentary misbehaviour.
We see and hear a lot that we would have readily and speedily cancelled — if only we had access to pause and re-set buttons capable of erasing the past – and history. But I still think all that, though normally unacceptable, is still tolerable in our still very abnormal political systems, still being slowly developed across the Caribbean today, under the cloud of deep climate change in the global knowledge industry, but guided by laws fashioned to keep us as old shadows in new neocolonial shade.
Yes, we can still get an often-hilarious pantomime in our parliaments, but all that's still much more tolerable than to see our MPs boxing the hell out of each other on national TV. Isn't it?
I rest my case!