Semi Finals Tomorrow.
THE fun and entertainment in St. Lucia Volleyball Association / Commercial League will continue tomorrow evening at the Beausejour Indoor Practice Facility when LUCELEC will take on Sandals for the 5th and 6th place finish from 6:00 p.m.
The showpiece will shift into high gear from 7:30 p.m. when defending champions Police come up against ECFH / Bank of St. Lucia in what has been dubbed a "Grudge Match Up".
ECFH / BOSL in 2013 lost to Police in the final and this time around they are expected to leave no stone unturned in the attempt to avenge that defeat.
The ECFH / BOSL team is under the guidence of Team Manager Cornelius Breen who spoke about his team's victory against Sandals on Saturday evening and their all important encounter against Police on Friday: "We play some good volleyball against Sandals and hope to take that kind of determination into the semi final. We are bit short on the bench as most of our key players are currently overseas.The few players that I have to date they have displayed the fighting spirit and zeal, I am pleased with what I am seeing right now".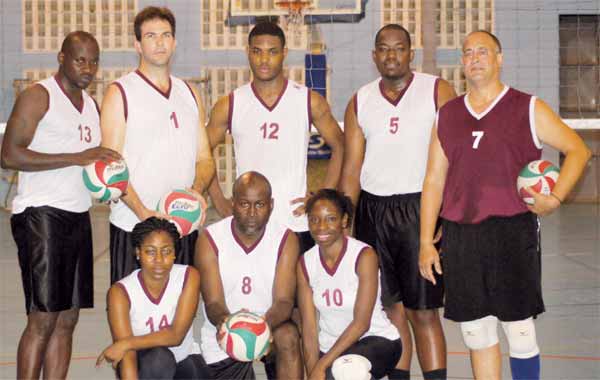 Asked whether he considered the semi final against Police, a grudge or revenge match, Breen said; "It will be a grudge match. We have been at loggerheads with the Police on centre court since they defeated us in the final of 2013 and again in our first match in this year's tournament. I believe the ECFH / BOSL, based on experience, will go all out to win and seek a berth into the final".
In the second semi final match up Consolidated Foods Limited will play the Ministry of Education from 8:00 p.m.
The VOICE spoke to Team Manager / Coach for the Ministry of Education Jermaine Anthony on Saturday evening following his team's 3 – 0 win over LUCELEC. and asked which team he would rather play in the semi final he relied: "To choose from the two, I will go for CFL in the semi final on Friday, Police are the defending champions and the strongest team in this years' tournament. They play well as a unit and are obviously physically fit too. I believe the way we are playing as a unit on court has more to do with our togetherness and we have a deep bench. It will be difficult to stop us".
Meanwhile, the final and third place silverware will serve off from 7:00 p.m. on Saturday at the BIPF.