Into Regional Finals In Jamaica In June.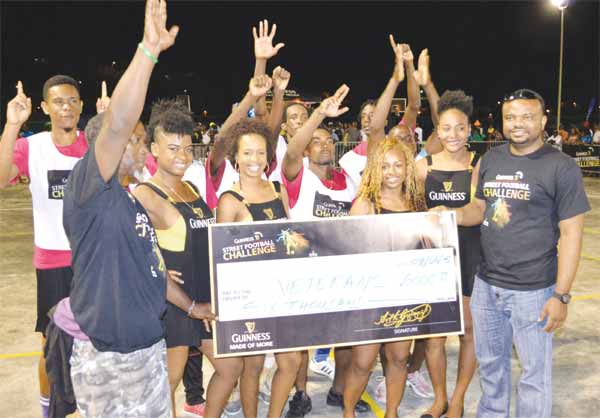 VETERANS, a representative team from the community of Vanard / Millet emerged as champions of the Guinness Street Football Challenge on Sunday in Vieux Fort when they defeated Champions from Dennery 1 – 0 in a penalty shoot out after the scores were locked at 1 – 1 after regulation time.
Fred Noel's goal on the run of play put Veterans ahead, but Champions had different ideas as they regrouped and came back strong to equalize through Nicholas Leon.
In the quarter final round, last year's champions Le Pong from Dennery went down to El Nino A from Micoud 1 – 0, a goal scored by Julinni Neptune. In semi finals 1, Champions defeated Fantastic Star Boys from Soufriere 1 – 0 in a penalty shoot out after the scores were 0 – 0 at regulation time. In the second semi final encounter Veterans defeated El Nino 2 – 1 in a penalty shoot out after that encounter ended goalless after regulation time.
For their victory Veterans received EC$6000.00 and the champions' trophy. Veterans will be St. Lucia's official representative team at the regional final in Jamaica scheduled for June 27 – 28. Countries competing for the championship include Trinidad and Tobago, Barbados, Guyana, St. Vincent and the Grenadines, St. Lucia, Dominica, St. Kitts, Aruba, Haiti and host Jamaica.
Prizes for the finals include US$6,000.00 for the winning team, US$3,000.00 for the second place, US$2,500.00 for the third place and USD$1,000.00 for the fourth place team.