Mon Repos Graduation.

THERE was only standing room available at the Mon Repos Combined School last Sunday when 311 students graduated from the Ministry of Education Human Resource Development and Labour/National Enrichment and Learning Unit (NELU).
Under the theme "Advancing Skills, Expanding Community Development" the trainees from the Micoud community are now skilled in Cake Making/Decorating (Basic/Intermediate), Electrical Installation (Basic/Intermediate), Garment Construction (Basic/Intermediate), Information Technology (Basic/Intermediate), Home/Backyard Gardening (Basic/Intermediate), Pastry (Basic/Intermediate), The Art of House Keeping, Tiling, Elder Care, Child Care, Human Relations, Plumbing and Flower Arranging.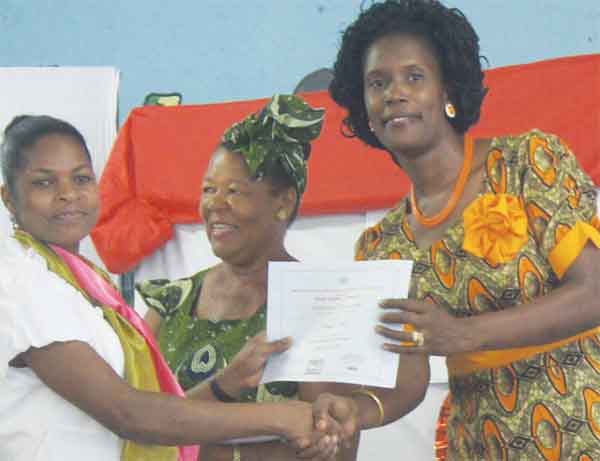 Executive Director of Junior Achievement Angella Joseph told the students that she saw in them a desire to learn and acquire skills. This, she said, proved too that they recognized a need for change and understood that life was too short to not be that change and fulfill their dreams; that they and they alone had what it took to make that change to their present situation to make a better life for themselves, their family and by extension their community.
Joseph said: 'For this I applaud you; I applaud the choice you made to grasp that opportunity afforded by the Ministry of Education to acquire, and in some cases, strengthen the skills necessary to expand or start your business".
She added: "By sacrificing your time to be part of these four months of training shows that you are taking a stand to address some of the challenges that you face in the community, challenges we all face; we all are affected by it in one way or another. Unemployment, it's a reality where over 45% of our nation's youth are looking for work. Unemployment is not unique to us individuals, groups, community and country but regionally and globally. We hear of the statistics and the other social ills associated with unemployment. No one person or group can do it alone; it takes the collaborative efforts of all of us to contribute to make a change".
Following the ceremony THE VOICE spoke with NELU Education Officer Alfrita Nuptial-Cooper about the effectiveness of the training programme. She said: "We broke the record in Mon Repos, 311 students graduated today, with 18 classes of different subjects".
Nuptial-Cooper said NELU was collaborating with a number of private sector establishments in organising practical training for students.
She said: "We have a database of everyone who has ever done a programme with NELU. If we hear about any opportunities for employment or anything where we can assist them we go into our database and get in touch with them. We also keep their telephone numbers and email addresses".
The next NELU training programme is scheduled to start in September, but as of Monday registration is underway for the new cycle with the 18 programmes that the unit is offering. Nuptial-Cooper said: "We are looking forward to all the other persons in the community to come and register, get a skill so they can go out there and do something for themselves and not have to depend on government per se".
Nuptial-Cooper said NELU currently had classes going on in Grande Riviere/Dennery and a graduation is scheduled for September. "We have a graduation ceremony for the Castries Comprehensive Secondary School slated for June 25. We will be looking at Jacmel, Laborie and some other centers around the island to have the programme".
"I would like everybody in St. Lucia to know about NELU. We at the Unit are responsible for life-long learning because we all know that learning starts form the cradle and ends in the grave. So every body come out and avail yourselves. The courses that we are offering are reasonably-priced between EC$120.00 – $180.00. Please profit that opportunity"