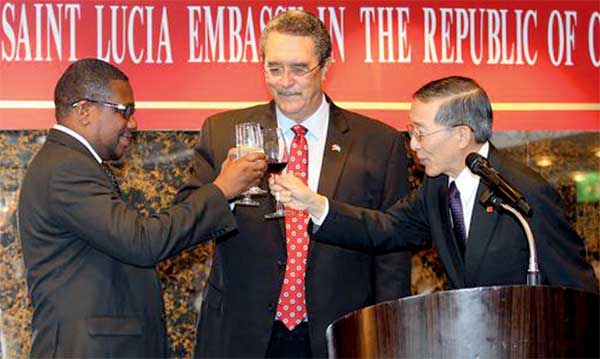 ST LUCIA'S first Ambassador to the Republic of China on Taiwan was not named up to yesterday.
Government Information Service story this week said the Government of Saint Lucia was in the process of selecting an ambassador, after recently opening an embassy in Taiwan. It quoted the Permanent Secretary in the Ministry of External Affairs, Hubert Emmanuel,as saying that the government had considered a few options but a choice had not yet been made.
"Of course, when choosing an ambassador we take into account the strengths of the person in relation to the country where they will be based. The ambassador will also need to have some knowledge of the relationships between the countries,"Emmanuel said. "In the case of Taiwan we want someone who will truly represent our interests in Asia."
But Emmanuel said the final decision in making the appointment, rested with the Minister for Foreign Affairs and the Prime Minister. He added that an appointment is expected to be made by the end of the week.
Saint Lucia and the Republic of China (Taiwan) have maintained close cooperation in public health, education, infrastructure and culture since resuming diplomatic relations in 2007.
At the June 4 embassy inauguration ceremony, Minister for External Affairs, International Trade and Civil Aviation, Alva Baptiste said the embassy will be tasked with promoting foreign investment in St. Lucia while its presence in Taiwan will help advance bilateral ties. He lauded Taiwan as "a model of economic development for small states," as it had engaged in a technological revolution that had enhanced the economic development and the welfare of its people.
Taiwan's Foreign Minister David Lin welcomed the establishment of the embassy.
"The opening of an embassy of Saint Lucia in the ROC marks a new milestone that will create more opportunities for exchanges and cooperation," he said, adding that Taiwan could serve as a gateway for St Lucia to the rest of the region.
St Lucian students in Taiwan have also been congratulating the Government of St Lucia on the establishment of the embassy. Over 80 Saint Lucians are on long-term scholarships at universities across Taiwan.
Sabrina Sayers who spoke on behalf of the Association of St Lucians in Taiwan said: "We are excited to finally have an official St Lucian presence in Taiwan. We have faced difficulties over the years, from getting passports renewed to putting on cultural expositions, and I am confident that with the opening of the embassy, these issues will cease to exist. We look forward to a future with endless possibilities as we work to not only to acquire an education, but also to represent St Lucia in every way possible."
The inauguration ceremony was presided over by Prime Minister Dr.Kenny Anthony, accompanied by Minister Baptiste, and Permanent Representative of Saint Lucia to the United Nations, MenissaRambally. Also present were Taiwan's Foreign Minister David Lin, Taiwan's ambassador to St. Lucia James Chang, and other foreign affairs officials.