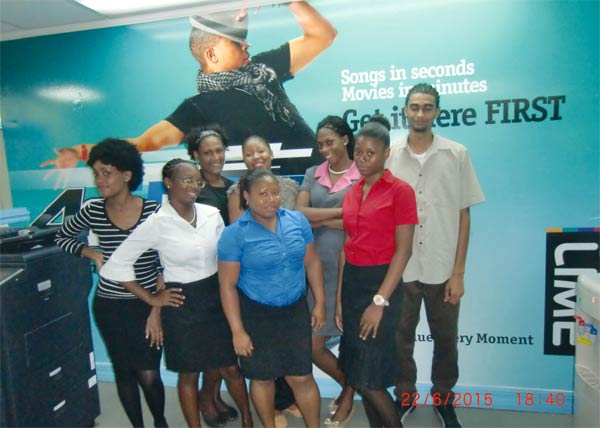 LIME is giving eight youth young people the opportunity to benefit from real-life work experience by becoming part of the LIME Family via the SLHTA Apprenticeship and Skills Training for Employment Initiative.
This initiative is designed to expose some 1,600 young people to training and employment opportunities in the hotel and tourism sector, as well as other industries.
The programme is jointly funded by the Saint Lucia Hotel and Tourism Association and the Ministry of Finance. LIME is among the first companies to embrace the initiative by taking on eight young trainees.
Over the next eight weeks the youths will be exposed to various departments in the company, including human resources, marketing, sales and administration. They will receive mentorship and hands-on training in high-skilled occupations that are both challenging and relevant to employment in today's economy.
Upon successful completion of their apprenticeship, the graduates will be awarded certificates of completion by the SLHTA and LIME. They will also be listed on the SLHTA skills database to which employers will be given access to screen possible applicants for vacancies.
CEO of LIME St. Lucia, Geraldine Pitt, said: "This apprenticeship programme could not have come at a better time and we applaud SLHTA for taking this initiative. This is yet another proud moment for LIME as it builds upon our long history of developing young minds through internship and apprenticeship. With the positive attitude expressed by the young participants and their eagerness to work and learn, there is no doubt that this will be a fruitful exchange as they have presented great ideas on how, as a company, we can improve on our quality of service and our product offering to the youth."
Pitt added: "All too often when our youth and young adults seek employment, employers require job experience yet few are willing to provide them with that first opportunity. That's the beauty of this program; for many it's a place to start and we are excited to be a part of their long journey into the world of work."