JD Douglas Makes Presentation.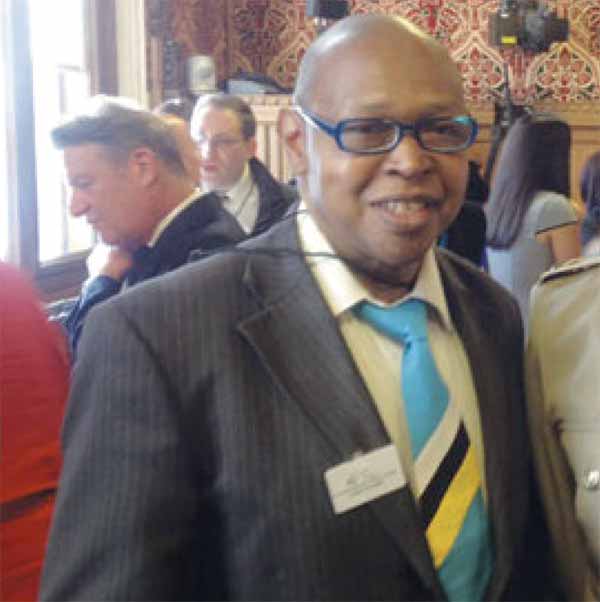 DOUGLAS is a Producer, Director and Writer. He gave a spell binding lecture talk Unsung but Not Forgotten Heroes at the British House of Commons to an enthralled standing room only audience in October 2014. He has also written a play of the same name which will be staged in 2016
The power point lecture/ talk demonstrated that although the First World War is seen as a European War, one third of the combatants were from Britain's non white Empire. The Caribbean's contribution was substantial not only in the provision of fighting men but also in resources and financial aid.
St. Lucia sent 625 men. Many would see action in the Middle East theatre of war including protecting the Suez Canal. Some would never see battle. The harsh weather conditions, lack of appropriate clothing and the over zealous marching of the men, meant that some died in Seaford. Two such St. Lucians were the cousins Nelson and Dennis Fevrier of Mon Repos.
Two noted St. Lucians who were members and officers of the British West Indies Regiment were Sergeant Francois and Lt Frank Johnson (who died age 19).
Douglas is a former pupil of the Methodist Primary School and the Seventh Day Adventist Academy. He is a Graduate in Economics, and an international producer who has staged productions in England, America and Jamaica to name a few. He has lectured at Wandsworth Adult Education Institute, and worked for the Arts Council of England.
He is also a Cultural Ambassador and is credited with conceiving the idea of the Shakespeare Globe Theatre production of King Lear, touring St. Lucia in 2013. He was part of the touring party that came to St. Lucia. He was given the task by the Shakespeare Globe Theatre of approaching and engaging Derek Walcott in staging Omeros as a stage play.
JD Douglas is well known for his historical stage productions. He is the composer and director of JA Story – The History of Jamaica Musical. He is the script writer and co-producer of the hugely popular Black Heroes In the Hall of Fame. In 2012 he was the artistic producer of Birmingham City's 50th Jamaica Independence celebrations, in association with the Jamaican Amateur Athletics Association, and the Association of Jamaica Nationals (Birmingham).
He was asked by the Academy of Arts in the German Democratic Republic to catalogue their Paul Robeson Collection. He cites the endeavour as one of his most rewarding achievements in the Arts.
This was followed closely by his tenure as the Arts Manager of Charlton Football Club.
Douglas maintains the "I am a St. Lucian" theme and where ever he goes in the world, he tries to present a positive image of his island.