22 Events At George Odlum Stadium Today.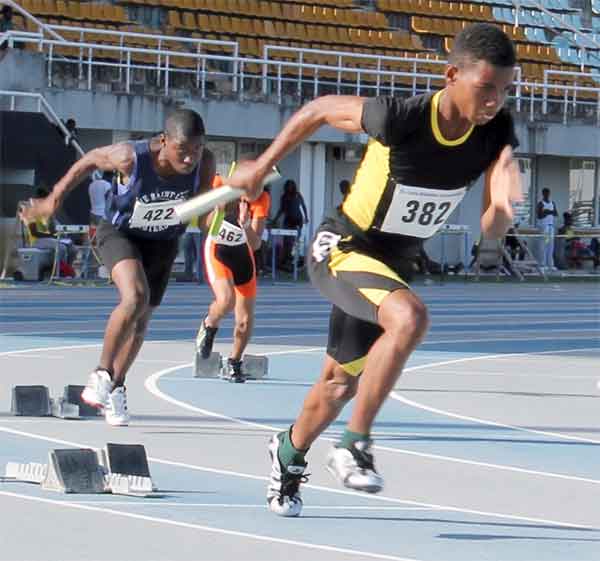 DESPITE the dilapidated state of the George Odlum Stadium in Vieux Fort where pieces of metal continue to fall from the roof on a daily basis, the St. Lucia Athletics Association will go ahead today with the hosting of the Club Relay Championship from 1:00 p.m.
According to the SLAA Secretary Lisa Joseph, the athletes will compete in 22 relays with 8 relays in the 15 and Under category and the remaining 14 relays in the open category. The points system for each relay is as follows – 1st place 100 points, 2nd place 75 points, 3rd place 50 points, 4th 40 points, 5th place 30 points, 6th place 20 points, 7th place 10 points, 8th place 5 points.
The participating teams are: Abilene, Blazers, Choiseul Athletics, District 1, Elite, Morne Stars, Night Riders, Road Busters, Rockets and Speed Printing Survivors will all attempt to dethrone the 2014 Champion Pace Setters under the watchful eye of head coach Claude Charlemagne, to be crowned the 2015 SLAA Club Relay Champions.
The biggest challenge for Pace Setters this time around will come from Speed Printing Survivors from Castries coached by Cuthbert Modeste. They top the medals tables this past weekend at the 1st National Bank Limited 14 and Under Games. Night Riders under the watchful eye of head coach Titus Elliot and Choiseul Athletics coached by Denise Herman are also expected to test the champions.
Former SLAA president and now Treasure, Cornelius Breen as to the association plans on keeping athletes away from the falling debris at the GOS. Breen said: "We will be putting caution tape that reads No Crossing and we will be working along with all the coaches from the various clubs to ensure that their athletes do not cross the danger zone identified, and instead remain in the designated area put up by the SLAA. We will be policing the area at all times, so we are asking all and sundry to cooperate with us fully and to ensue that we have a successful championship free of any unfortunate incidents".