IT was as a near miss on Sunday at the George Odlum Stadium that currently houses the St. Jude's Hospital in Vieux Fort when a piece of metal detached from the roof and fell onto the pitch during a sporting activity.
The incident happened at approximately 3:50 p.m and had a number of under – 14 year athletes running for safety. Luckily, no one was injured, but it could have been a terrible tragedy. A number of athletes were sitting nearby at the time the metal structure came down.
Opened in July of 2002 the $55 million stadium has continued to be an eyesore as the sea blast from the Atlantic Ocean plays havoc with the metal structure as well as the 9000 seats on the eastern and western ends of the stadium.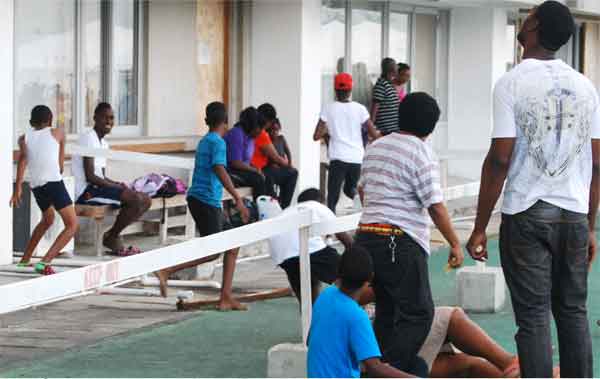 A hazard analysis needs to be done to determine areas of risk for falling debris and systems such as safety nets, controlled access zones are needed to ensure the warning lines are adhered to by all users including staff at the GOS. Elimination of hazards where possible such as the pieces of galvanized sheeting seen hanging loosely on the eastern end of the stadium, must also be undertaken.
It's easy to say that there are barriers in place so users know they cannot seat, stand, walk near by, but is that all? Where were the security personnel to ensure all of the above are adhered to?
Based on what has happened on Sunday afternoon currently the most important part of this equation is safety. The Ministry of Youth Development and Sports should declare the Stadium as a safety hazard for sporting activities until further notice, to avert possible injury or even death in the future.