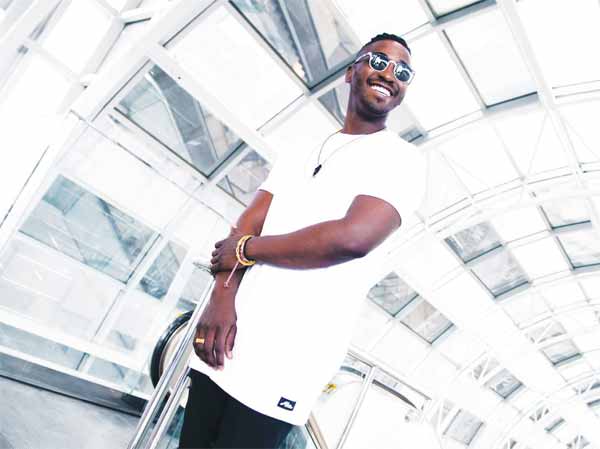 KAYO set the stage ablaze and left the crowd craving for more with an amazing performance last Friday at Jazz on The Strip.
The Canadian based Saint Lucian rapper performed some of his biggest hits in Rodney Bay for his home fans. The crowd screamed with excitement and demanded a repeat performance after 'Infinate' (Nathan Deterville) joined him on stage to perform for the first time their recent song 'Bakara' which has gone viral on the Caribbean Top Ten and on airwaves across Canada.
In attendance, at front stage was a proud mother beaming as she watched her son do what he loves most. Inspite of her past preconceived notions of what a rapper is supposed to portray and her doubts about whether rapping was the best career choice for her son, Kayo's mother looked quite supportive of her son.
"My mom and I have a very close relationship. I am determined to make her proud and I am mindful that my lyrical content always reflect the manner in which I was raised," shared Kayo.
The young rapper went on to describe his relationship with his producer Saintt Lucian born Johann Deterville (Yogi da Producer).
He said: "When Yogi and I came together, it marked an evolution in my musical career in terms of the lyrical content and soundscape of what has been recorded so far. There is always an air of normalcy at work with him. " Taking a satisfied reflection into his past, Kayo said he has now taken some time to orchestrate what the next steps will be in his career. In the meantime he is enjoying just improving on his music.
Kayo spoke of his favourite local performers, Soca artists Sedale and Michael Robinson.
"Seeing Sedale perform for the first time at the opening of Jazz left me very impressed. He does Soca but he has a kind of vibe about him that has more like an urban mainstream feel to it that makes it cross over very well. Also, his whole stage presence was impressive. Funnily, I remember Sedale was more of a rapper at school. Now he has totally flipped and took to Soca which also works well for him. Michael Robinson works very closely with our camp and I think he is one of the musicians here that has the capability to take things to a whole other level."
Despite sometimes feeling like he is a small fish in a very big tank, Kayo said that his Caribbean roots merged with his creativity has given his team an element that cannot be easily replicated. Kayo also pledged to continue to constantly deliver good music and share something of substance.
By Ramia Thomas