Despite Several Technical Issues.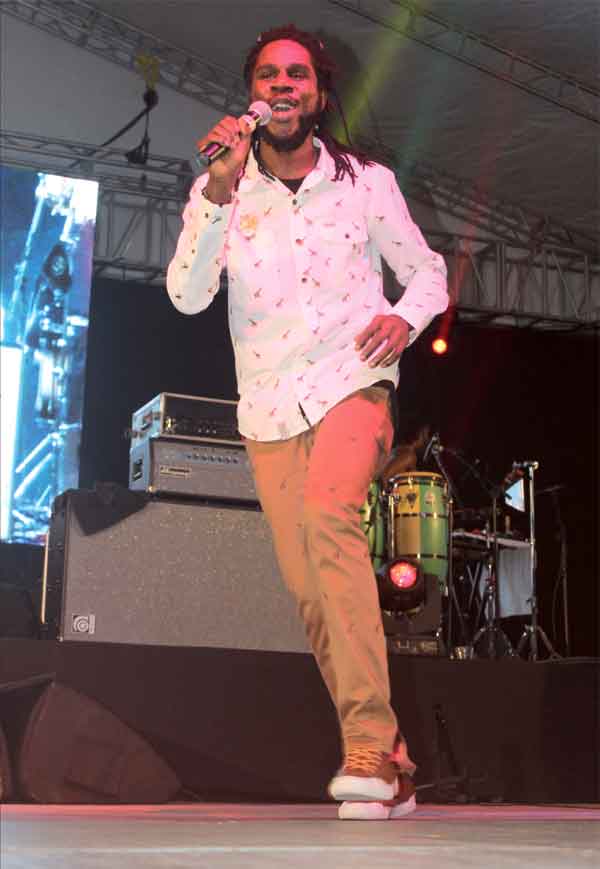 IF last weekend's bumper crowds and great music continue to be the trend over the next few days, then this year's Saint Lucia Jazz & Arts Festival would definitely qualify as one of the best seasons ever. However, organizers still need to iron out a few teething problems.
For starters, the official opening held at Mindoo Phillip Park last Thursday evening did not start on a high note. Despite the late start by an hour or so, the show soon got underway with Sherwin "Dupes" Brice, Invader, reigning Groovy Soca monarch Arthur Allain and Sedale featuring Wildfire warming up the thousands of fans for what turned out to be a long musical journey.
But it was reggae/dancehall artiste, Chronixx, who stole the show. Performing fan favourites, including "They Don't Know", "Here Comes Trouble", the 22-year-old Jamaican performer gave patrons a spellbinding performance. By the time he left the stage, fans were so swept up by Chronixx that they demanded – but unfortunately didn't get – an encore performance. Chronixx's performance, many patrons told The VOICE, was a major improvement over the previous reggae/dancehall acts booked for the opening over the past few years.
By the time Trinidadian soca star, Destra, came on stage after midnight to close the show, the patrons were already drained. Nevertheless, the self-described "Queen of Bacchanal" was sure to turn things around a little bit. With tracks like ""Max It Up", "Just A Little Bit", "Bonnie and Clyde", Destra sang and danced her way into the fans' hearts. By the time she performed her now-popular "Lucy", everything had already gone loose.
The long weekend of music continued on Friday at the Soufriere Creole Jazz held at the Soufriere Stadium. While organizers are pleased with the overall hosting of the event – including the increased crowd level – they did face some logistical issues, including managing traffic and crowd control. In many cases, food booths ran out of supplies long before the show even ended.
Another major issue with the Soufriere event was that the show started over an hour past its scheduled 4 p.m. start, ending after 2 a.m. Nevertheless, Barbara Cadet, Teddyson John and WCK did their best to show value to an event that organizers will definitely need to improve on next year. By the time Jah Cure came onstage about minutes to one, the crowd seemed to have had enough – as was the case with Mindoo Phillip Park the day before. However, Jah Cure's performance, many say, did much to soothe the fans' frustrations for whatever did not go right for the event.
The Zouk Machine, Carimi, EvaLucian Band, AvotSevis and MisteEn Local continued the jazzy weekend at Fond D'Or on Saturday. Technical issues with sound and lengthy changeovers during sets – common themes at almost all events thus far for the season – put a damper on some of the performances. Nevertheless, a record crowd turned up for the much-looked-forward-to jazz event that continues to attract more and more patrons annually.
Last Sunday evening, the recently-spruced-up National Cultural Centre played host to the inaugural Cultural Icons Series for which scores of patrons showed up. Acclaimed Saint Lucian musician, Charles Cadet, was the featured honouree as a superb cast of seasoned and budding musicians paid tribute to him in song, many of those songs written by Cadet over his illustrious career. Performing on the night were Barbara Cadet, Ronald "Boo" Hinkson, the Saint Lucia School of Music Orchestra and Shayne Ross.
Yesterday, the inaugural Blue Coral Jazz sounded off with performances from Emerson Nurse featuring Ricardo "Ricky" Francois and Rupert Lay, Anya Nurse, Lambert "Skye" Soomer-James and Peter "Jumba" John. That festival runs until Wednesday between 11 a.m. and 2 p.m. daily. A music icons exhibition is also being hosted upstairs Blue Coral Mall and runs until May 30 between 8 a.m. and 6 p.m.
Also, the Blu Session – Word in Altered Scale was held last evening at Koko Cabana and featured poets Black Crayon, Glen Charlery, Adrien Klien and GajananNataraj.
Press Relations Manager of the Saint Lucia Tourist Board (SLTB), John Emmanuel, told The VOICE yesterday that despite the festival showing some positive signs thus far, some organizers have faced some challenges hosting events at some venues. He cited the Soufriere Creole Jazz where, he said, organizers would need to be cognizant that as the events grow exponentially much more effort will become imperative to ensure success.
Emmanuel said that especially when communities and/or entities begin their foray into the annual jazz calendar, a number of things can go wrong. Nevertheless, he is encouraging organizers of such events to partner closely with the SLTB so as to be able to meet certain crucial benchmarks.
"When it's new, it's always the most challenging," Emmanuel said. "But as you begin to patent your thing and get better, you eventually get endorsement from the (tourist) board, meet the benchmark requirements and add a lot of flavour and excitement to what is this overall spectacle that is the Saint Lucia Jazz & Arts Festival."
The 24th annual Saint Lucia Jazz & Arts Festival continues today with Fire Grill Jazz at Fire Grill Restaurant, MizikEnKwéyòl at Monchy Square, the Saint Lucia Jazz & Arts Visual Exhibition at Rodney Bay, and Dinner Jazz at Rainforest Hideaway. Tea Time Jazz and Jazz on the Square begin tomorrow.