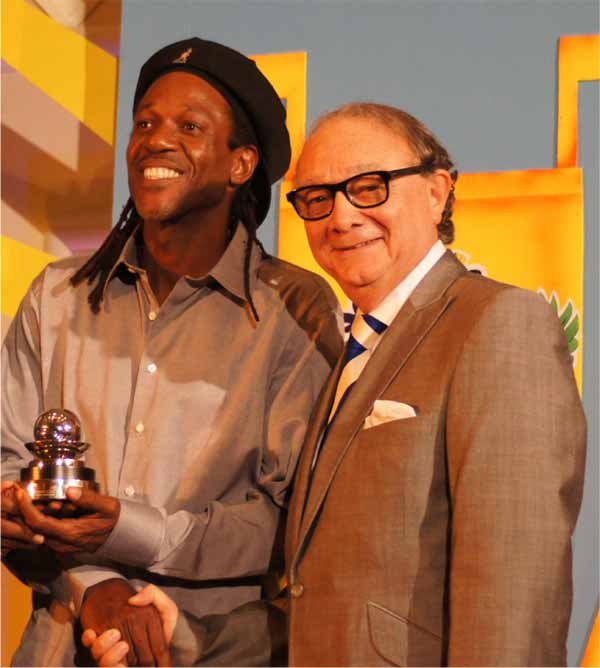 AT a tennis tournament closing ceremony and presentation of awards about two years ago, President of the tennis association Mr. Stephen McNamara commented on Vernon Lewis' excellent play (still playing competitively he had won the men's open singles title) and also referred to his nomination for the prestigious Davis Cup Commitment Award from the International Tennis Federation (ITF). That award was unveiled in conjunction with the 100th Davis Cup as part of the ITF's 2013 centenary celebrations.
Vernon Lewis was one of only four Caribbean players nominated, the other three from the Bahamas. Recipients are Davis Cup players with long-standing dedication to representing their country in that competition. They will also be recognized on an honours board at the ITF headquarters in London and in a dedicated section on the official Davis Cup website. A total of 299 elite international tennis players qualified to receive the award including greats such as Andre Agassi, John McEnroe Jr. and Boris Becker. Subject to correction Lewis has received his award and space will not permit reference to his Davis Cup achievements and highlights.
That acclaim as cited above undeniably indicates Lewis' stature in the field of tennis and is a high point amongst his many other successes in the local and regional arena. Suffice it that it is noteworthy, that even at 49 years of age he continues to win local tournaments and still holds the honour and for some years back, of being our men's open singles tennis champion. Irrespective that speaks to his love and dedication to the sport.
Where traditionally many of our other popular sports have been within 'playing reach' of nearly every young St. Lucian we must remember that the history of tennis here, due to certain regulations and costs, was a sort of societal sport associated with the more well to do. So in the beginning of his early tennis life and as a very average St. Lucian boy, such would have made Lewis' persistence and early achievements even more remarkable. But all of that perception and fact has changed, and barring some more manageable costs here and there, with more forms of assistance available to young players there will hardly now be that impediment for the average young and interested St. Lucian tennis beginner.
I do not know of Lewis' prevailing influences and choices at the height of his more youthful tennis career, but he could have easily left our shores to explore his fortunes overseas like some of his other colleagues, at that time. Some others who are settled here are otherwise professionally occupied and for them tennis is more recreational. So what stands out for me is that Vernon Lewis who evidently made a conscious decision to remain in St. Lucia not only continues to play and excel but importantly contributes much to its development here through our young players.
Even if as a business, he has been spending his later tennis life committed to the training of upcoming players though his tennis academy, something that must be recognized. Many of his students, past and present, have already registered significant early successes, locally and regionally, both for themselves and country and I am pretty certain that a number of our future tennis stars will have the stamp of Vernon Lewis somewhere along their tennis journey. This speaks well for the link between his love for tennis and its continuing development in St. Lucia. Today, young AdrielBousquet a product of Vernon's training holds the No. 1 position in the COTECC (Central America and Caribbean) 14 & Under rankings and with four of Lewis' other tennis students holding the Nos. 6, 7, 9 and 11 positions. Two years ago Jean Philippe Murray a past tennis student of Lewis reached the No. 3 position and all no small achievements.
So some weeks ago while at the tennis centre it came to me in a flash. In view of the above and other tennis accolades I would have missed, it is just my humble opinion that as a fitting tribute in acknowledgement of Vernon Lewis' many tennis accomplishments and his furtherance of the sport among the youth in St. Lucia, that our National Tennis Centre be renamed the Vernon Lewis Tennis Centre. That is of course subject to the expected and necessary scrutiny and approval from the Governments of St. Lucia and Taiwan (ROC) and our tennis association. In fact, my case simply rests on the precedent and criteria as used worldwide for the naming/renaming of sporting facilities after appropriate greats.
We have a small number of major sports venues to include the renamed Mindoo Phillip Park, the George Odlum National Stadium, Kenneth 'Wrigley' King Sports Complex and renamed Phillip Marcellin Grounds. In the case of our national stadium named after George Odlum, he is best known for his oratory and prominent role in firing up and changing the political landscape of St. Lucia, and that he may have influenced or facilitated the Chinese government's funding of the stadium is to me a non sequitur. But surely, if the contribution of those St. Lucians to any of the sporting activities played at those venues is to be used as a yardstick, then there is no doubt that Vernon Lewis handsomely qualifies for having our tennis facility renamed in his honour.
For me the honouring of a person whether by a prestigious award or the naming of a facility after that individual is an important aspect of national development. However while an award or title is more personal and remains with the individual, a sports venue bearing that individual's name remains with the country and is a constant reminder of the persons achievements and contribution to that sport. It will give more meaning and 'life' to the facility and so connect better with young sports aspirants as something they can look to so as to be even more motivated. It is evident that Vernon Lewis has proven himself and while the ITF has recognized that, where does that leave us as a people?
But it can happen. If my comments are sound and enough persons are so minded then there can be a call for the initiation of the official process, to of course, first examine that suggestion and any possible implications. With success the final process can then be followed through. The Vernon Lewis Tennis Centre, is definitely a fitting tribute to a local tennis giant.