$1.1 m. Plant In Operation at Vieux Fort.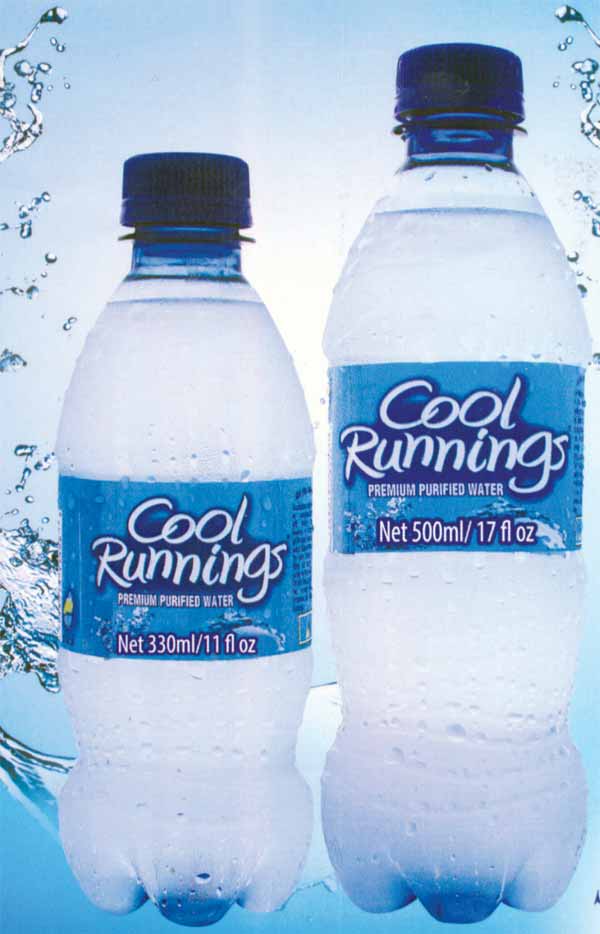 THE first state of the art water production plant in Saint Lucia has gone into operation here with the launch of a new purified bottled water.
The new player in the water industry is SMJ St. Lucia Ltd, a 17 year old company that has weathered the economic storms and now sails along with a staff complement of 110 persons at its factory and distribution centers.
The company, which had to fight against local forces trying to prevent it from getting a foothold in the soft drink market here in 1998, aims to redefine the way bottled water is produced in the country by way of quality, price and sustainability, according to its general manager, Ernest Augier.
Though located in Vieux Fort the water production plant was officially opened at the Bay Gardens Beach Resort through the symbolic ribbon cutting gesture. The company, at the same time launched its Cool Runnings Premium Purified Water in three sizes.
But the brand "Cool Runnings" is no stranger to Saint Lucia. First introduced here in 2012 it has been on the local market offering Cran-Water (Cranberry flavoured water) for the past three years. Three months ago it introduced the Pomegranate flavoured water.
The Cool Runnings Purified Water boasts of giving the bottled water drinker pure clean tasting water that is produced and bottled at SMJ's St. Lucia production plant.
Commerce Minister, Emma Hippolyte, gave SMJ St. Lucia Ltd her blessings and that of her Ministry for its foresight in constructing the plant and for showing confidence in the manufacturing sector in the country.
The Chamber of Commerce, through its Executive Director Brian Louisy, also praised SMJ St. Lucia for its initiative .
"We are all aware that the business community has had a very challenging last few years and the manufacturing sector has been under tremendous pressure. We have seen companies like SMJ St. Lucia look at their marketing profile and profit line and find ways to continue to operate not just at the same level, but to expand, diversify, create new products. We have no choice but to support and applaud this type of initiative," Louisy said.
With local and foreign produced bottle water already jockeying for market share here, Cool Runnings Premium Purified Water will have its work cut out for it in claiming a profitable share of that market. But Augier is not worried at all. He believes that the product will be a hit, because of its quality, derived from the various stages it has to go through before reaching the market.
Raw water from the tap is pumped into a reaction tank for part one of its purification journey. It goes through five stages of purification including a reverse osmosis stage where any particles or microorganisms are removed. To further ensure that the water is purified and sanitized it is ultra violet treated.
"The Cool Runnings brand has a rich legacy in Saint Lucia and has been part of the culture for some time now. Cool Runnings Premium Purified Water gives you a consistently great, crisp taste. We are proud to launch this water from a platform of quality, consistency and power…the kind of hydrating power that is essential for everyday life," the company's Caribbean Brand Manager Krista-Lee Lookit said, adding that the company has a plan designed to bring the water to all Saint Lucians.
ReishaRamnarine Lewis, Marketing Manager of Trinidad based SMJaleel Ltd., parent company of SMJ Saint Lucia Ltd said that the brand is poised to represent and advocate the pursuance of a healthy lifestyle. That's why it plans to sponsor Morne Stars Athletics Club, Dane Magloire Coach and former National Record Holder for long Jump and Triple Jump, cultural and social community events, youth programmes and school partnerships.
"We are not only promoting Cool Runnings Water. We are promoting healthy lifestyle choices. Through its marketing programmes associated with its Cool Runnings brand. SMJ reinforces its commitment to supporting local activities in the areas of culture, sport, social and community-based activities through sponsorship activities that enrich the lives and support a healthy lifestyle of both children and adults in Saint Lucia," she said.
SMJ St. Lucia Ltd is now a respected business entity that has made significant strides in the economic advancement of the country through its many charitable deeds.
Said Augier: "To date we employ 110 persons at our factory and distribution centres. We are exceedingly proud of the significant impact of our contributions to the foreign exchange earnings of our economy, for presently we have and continue to export our products to Saint Vincent, Dominica, Barbados, Belize, French Guiana, Saint Kitts, Holland and the UK and our sights are set on expanding our tentacles in a number of other countries.
"This year we took the bold step of investing EC$1.1 million in the establishment of the most modern state of the art bottled water plant at Vieux Fort. our total investment at Vieux Fort and Castries to date is well over EC$21 million because of our confidence in our staff, our loyal customers and the Saint Lucian economy, our future investment options remain very active and positive," Augier said.