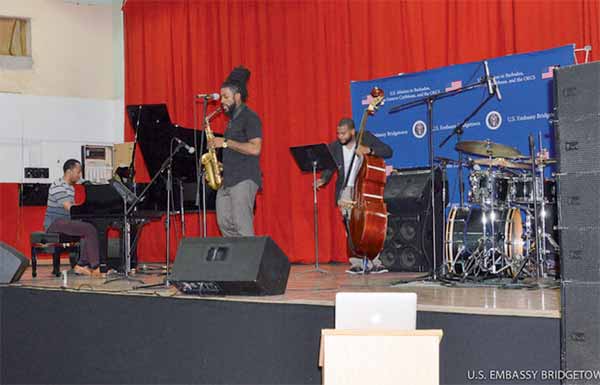 THE U.S. Embassy to Barbados, the Eastern Caribbean, and the OECS hosted the Brent Birckhead Quartet in a four-nation Eastern Caribbean tour.
The quartet's second stop was in St. Lucia last saturday, where the ensemble performed during a free public concert at the Castries Comprehensive School.
The U.S. Embassy presented the quartet in this series of public concerts to underscore the excellence and diversity of American music and as well highlight Jazz Appreciation Month. The Quartet's Eastern Caribbean tour also included performances in Barbados, Antigua, and Dominica.
The four award-winning Americans of the quartet include saxophonist Brent Birckhead, pianist, Mark Meadows; percussionist, Carroll Dashiell III; and bassist, Romeir Mendez. The ensemble thrilled the audience with a programme of jazz standards and original compositions.
When asked what he wanted audiences to remember about him, Birckhead said: "Music is a conversation and all students of jazz, myself included, have to learn the language of jazz. It's just like a child learning to talk. You listened to your parents, your vocabulary grew, and eventually, you were able to express yourself. Music is no different, and we're here to have a conversation with our audience."
YolondaKerney, Embassy Bridgetown's Public Affairs Officer and a former Library of Congress music historian, offered her assessment of the quartet: "They are masterful, both technically and artistically, and they are the present and future of jazz. Like so many great artistes their music is a reflection of their personalities — individually and as a group. The Birckhead Quartet is confidence without arrogance; commentary without hyperbole; expansion without excess."