TWENTY two medical students were formally enrolled with the International American University College of Medicine at its glittering White Coat ceremony, held at the National Skills Development Centre (NSDC) in Vieux-Fort last Friday.
A striking feature of the occasion was the presentation of the white coats and stethoscopes to the students, which was truly a spectacle.
The students were also presented with the "Humanism in Medicine" pins which were provided as a gift from the Arnold P. Gold Foundation, initiators of the first White Coat Ceremony in 1993." It was provided by Dr. Bill G Clutter who is the senior advisor to the president of IAU, Manmadhan Nair.
The students read the Hippocratic Oath which spelt out what is expected of them as physicians in training. It reads in part: "I publicly acknowledge and accept the privileges and responsibilities given to me as a physician in training and dedicate myself to provide care to those who need…"
In his welcome remarks, Dean of Basic Sciences at the University, James Villanueva said: "Consider this evening as part of your journey…part of the steps towards fulfilling your dreams. There will certainly be challenges along the way but they are all worth it."
He urged the students to strive to be brilliant and express positive attitudes throughout their career.
"I hope you will listen to the voice of faith, optimism and determination, rather than the voice of defeat," he added.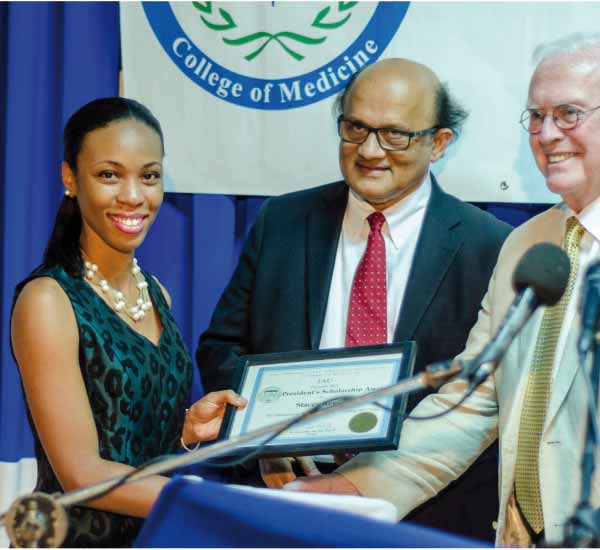 According to Dr. Villanueva, there will be positive changes at the school which will result in a better Basic Sciences programme.
President Manmadhan Nair emphasized the importance of the Hippocratic Oath, urging the students to abide by it and let it be their guide.
"You made a pledge that you will take care of your patients with dignity and compassion, so be loyal to your profession. Whatever you do, you will be touching on the lives of people," he said.
Nair told the students that they have entered the most respectful profession that they could ever dream of.
He urged them to work hard and not be daunted by the challenges they would encounter.
"You will face a lot of hurdles which will be challenging but exciting throughout your profession. You have taken the first step of a journey which is long," he said.
Dr. Rasheed Agboola, in his presentation, said the white coat comes with respect and expectations. "You represent the profession. You have to be honest and truthful," he said.
Presentations were also made by students who spoke about the school in glowing terms. They promised to do their best in their exams and make the school proud.
Awards were presented to students who did exceedingly well in their exams. Among those who received awards was Stacy Regis, a St. Lucian who got the Dean's Award of Excellence for her outstanding performance in Histology and Gross Anatomy at the National Board of Medical Examinations (NBME) and The President's Scholarship Award for Academic Excellence.
By Kingsley Emmanuel