Donatus St. Aimee To Be Buried Tomorrow
PATRIOTIC, philanthropic and principled were just a few of the noble attributes bestowed upon Dr.Donatus Keith " Mutch" St. Aimee, Saint Lucia's former Ambassador and Permanent Representative to the United Nations, when Laborians paid homage to him last Sunday.
The occasion was attended by a number of present and former government officials who heard glowing tributes paid to a Laborian who has made a monumental contribution towards the development of his community, and by extension the entire country in many ways.
Among those officials were former Prime Minister Stephenson King, former Ministry of Infrastructure, Felix Finisterre, Minister of Foreign Affairs and District Representative of Laborie, Alva Baptiste and Earl Huntley, a former Ambassador to the United Nations.
Dr. St. Aimee, a teacher, civil servant, diplomat and cultural activist, died two weeks ago after a period of illness. He will be laid to rest in Laborie tomorrow.
Some of the tributes paid to him by Laborians who knew him very well, were presented in a witty and humorous way, creating vivid memories of the type of man he truly was.
In his tribute, former prime minister King said: "Keith always spoke with an enthusiasm which was infectious, drawing the listener into helping him with what he had in mind or with the task that he was presently engaged in".
He added: This was the mark of a man…He was a worker-always planning activities that he felt could advance his community and country in general."
According to King, who said he was in shock and disbelief when he heard of the news of Dr. Aimee's death, he (St.Aimee) was a man who hardly ever focussed on himself.
He said perhaps Dr. St. Aimee was Laborie's best tourism ambassador, and as a result little further promotion was needed for this "historic and beautiful village".
King noted the fact that despite his intention to contribute towards the development of the country as a politician did not materialize, that did not daunt St. Amee's role I contributing towards the development of his country.
Commenting on St. Aimee's tenure, as a diplomat under his administration, King had much to say, speaking of his contributions in glowing terms. He spoke of the part St. Aimee played in resolving the once controversial Helenites Centre issue in New York .
"I sought the guidance and support of Keith St. Aimee whom I considered to be the most experienced and knowledgeable diplomat at my disposal. He quickly assumed the role as my advisor on external affairs and was challenged with the task of resolving the issues surrounding the Helenities centre."
King added: "He successfully resolved the Helenites Centre issues and it was his initiative to bring in all St. Lucian associations and groups in the tri-state area together, to establish the St. Lucia House Foundation, after the government secured the ownership of the former Helenities Centre, in the name of St. Lucia."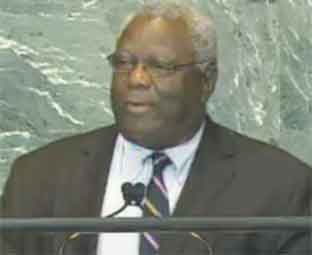 Donia Mathurin, Dr. St. Aimee's neice, described her uncle as a level-headed individual with plenty of emotion.
"He was an extremely loving, generous and caring man, and had a strong appreciation for culture," she recalled.
She added that as she got older and continued developing herself professionally, St. Aimee was very influential in her life, providing support and nurturing her brains with words of encouragement.
"He always stressed the need for higher learning," she said
Rudy John, a resident of Laborie and school mate of Dr. St. Aimee, recounted the fond moments they shared, creating some laughter among the gathering.
He recounted some of their adventures as young men which almost landed them in danger.
John also spoke of St. Amee's proficiency in mathematics and his influence on other students in the school.
Several other Laborians spoke highly about the man who they say had made them proud by his contribution towards the development of the community.
Sandra John, who worked with Dr. St. Aimee at the United Nations Economic Commission for Latin America and the Caribbean (ECLAC) also spoke of his contribution towards the development of St. Lucia and the wider region. She described him as a passionate and articulate individual. John said he was a force to be reckoned with at ECLAC, adding that he was a vociferous critic of any policy or programme which in his opinion went against the interest of the people of the Caribbean.
"He was a different manager. He did not break the rules, but he certainly was able to bend them to ensure that his projects were implemented, "she said.
By Kingsley Emmanuel