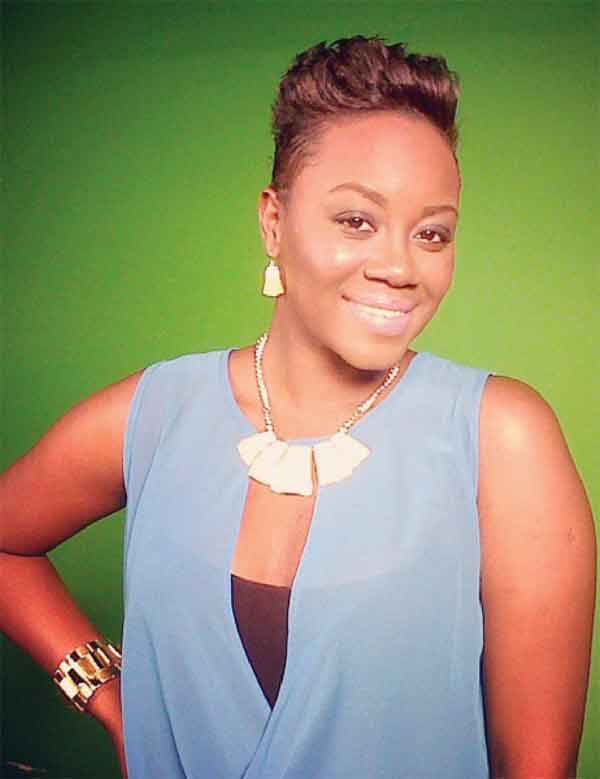 JUST when you thought that the love for books, reading and writing in St. Lucia was on the wave, out pops an inspiring and imaginative young woman who has been keeping readers on their toes for the past few months.
My Face In The Crowd, Juelle Cadette is a 27 year old with a passion for literature and a "head in the clouds" feature which happens to be the key to her imaginative side as her writing range knows no bounds. The self-confessed Drama Queen is very outgoing, ambitious and welcomes change. She also prides herself on being a persistent go getter.
Cadette stems from close knit family including her parents with whom she resides and credits for her strong beliefs and values of education.
With three short stories under her belt in less than one year, the young author talks with The VOICE about her inspirations, worries and why books will forever be relevant.
The VOICE: You've recently came onto the scene as a promising author, where did that skill come from?
Juelle: Well, I have always been writing. It is probably the most consistent thing in my life. I have always retreated to writing whether I am sad or happy. It has always been one of my strongest points and it is just what is natural about me. I have my father to credit for that. I have an immense love for reading and that blossomed with him. He would always buy me books during my school vacations and insist that I read and learn rather than spend my entire day playing. So from reading, comes writing.
The VOICE: Does your mother who is an educator (and is affectionately known as Madamme Cadette, French Teacher turned Vice Principal of the Entrepot Secondary School) have anything to do with that passion and zeal as well?
Juelle: Yes she does. My mom is my source of strength and has always encouraged me. She's also a published author and a contributor in the arts through folk dance. Whilst my father pushed me to read because he didn't have the opportunities he has given me, my mom taught me the importance of being persistent and humble, all necessary attributes of successful people. She is my role model. I saw her do it, so shall I.
The VOICE: Now currently you have written three short stories "From Hattie", "A Mental State of Love", "Where was La Reine Born?" Where did you get the inspiration?
Juelle: I have written many stories before but never to such a length nor for public viewing but one day I just happened to view an email about to the Commonwealth young writers competition and I thought, hmm, maybe I should give it a try. The idea for "From Hattie" came to me whilst I was asleep and I just ran with it. Starting and finishing that story has been one of my greatest achievements. In terms of inspiration, history is one of my sources of inspiration, I find the past interesting but for the most part ideas come to me at all times. They bombard me, if I may just say that… I just have to write to keep sane.
The VOICE: What can we expect from these three short stories?
Juelle: The three stories are taken from a point in time. Historical fiction I believe is my niche so I wrote stories with some historical context but "Where was La Reine born?" was the only one that was about an actual person. My stories all have a bit of romance too directly and indirectly. They also have adventure and a bit of suspense. In the future, I hope to release some stories with a bit of humour but I have to first learn how to write humorously.
The Voice: What are you striving for with the publication of these stories?
Juelle: Quite honestly, although I am striving for success I am seeking to help develop the relationship St. Lucia ought to have with literature. I laugh every time I recall how we should be expecting an input into the arts, but where is it? We have a Nobel laureate and from since 1992, may I be so bold to say, but we should have taken every opportunity to develop many more like him. Where are the writing competitions and camps? What a great thing it would be for Nobel Laureate Week we have a poetry competition to celebrate Derek Walcott instead of lectures upon lectures! You can surely expect more from me, and hopefully in a year or two my first collection. A nation that does not read is certainly headed for doom. I hope that with all my flair and drama, I could encourage more young people to read and most importantly, write. Apart from all the success I know will come my way, this would be my biggest achievement.
The VOICE: Funny that you should mention drama…you labelled yourself as dramatic. Do you think that this trait helps?
Juelle: I think it does. I think being naturally dramatic enables me to write with a bit more flair and description, not saying though that being dramatic is a requirement to do such things. I feel things very deeply so I write a little deeper or maybe it's just because I am Leo and well, you know what they say about us.
The VOICE: What were some of your biggest challenges during the process of your stories all the way through to publication?
Juelle: Writer's block most definitely proved to be a challenge but I learned that the only way to conquer that was to write regardless…the water doesn't run unless the tap is opened. I also edit whilst I write so that in itself can prove to be troublesome. Right now, getting the time to write has been somewhat difficult but I'm working my way around my schedule because not doing it means me not being me so whether I have to stay up until 2:00 a.m. then I'll do it
The VOICE: Unfortunately, there have been many reports of bookstores closing and books somewhat losing their relevance…some might even say that they're nearly obsolete, does that worry you?
Juelle: It does very much so. What future are we setting up for ourselves? A country that does not read… it's embarrassing and sad in my opinion and for a writer such as myself, it lessens the places where I can thrive. I think our solution to bookstores should be to evolve, make reading a book more interesting for the digital generation. Interest them, make sitting at a library even more comfortable. Books will never lose their relevance if we make them interesting.How about having a bookstore that hosts reading clubs where you can actually sit and read all day whilst drinking coffee? It may be far fetched but this generation requires it.I think it presents us with an interesting problem to solve and it starts from the home and not with the closing of a bookstore. Books will always remain relevant if from an I early age a child is taught to love reading.
The VOICE: Although there will almost certainly always be book fans, in St. Lucia, the interest is fading fast. Do you think that you can make an impact and perhaps inject some of that passion back into readers?
Juelle: I think that would be a very hard thing to do but nothing is impossible. Passion and positivity are contagious and building a relationship with the wider community is essential. For me, I create a hype over everything that I do and market myself over social media. I think right now for any writer or for even an entire library, a social and digital presence is essential to thriving and may I just add, it's an inexpensive way also. If you can't get the kids to go to the bookstores, hit them where they are most… online. So far, with only three stories published, my readership has grown and I expect it to grow if I remain consistent
The VOICE: Ok, what more can we expect from you in the future?
Juelle: Well, I release stories every two months on my website, juellepcadette.wix.com/blog. So far that is my main goal to remain consistent. I also intend on submitting stories to some international magazines for publication and competitions and in time, my first collection. In between work and my website, I am working on that with help of my mentor Gyanchand Rayman.
The VOICE: Finally, to anyone with an idea for a book bugging them and keeping them awake like they did you, what inspirational advice would you give to them?
Juelle: Go for it, I will never tell them otherwise. The beauty about writing is that you don't have to be great at it all at once, unlike let's say a surgeon. Over time you grow if you put the effort into it. Although I have not reached my peak I would tell them write with a passion and intention, write not to sell but to tell stories, great stories. Write about what you know, what is familiar because you will be an expert at it, like how Derek Walcott always wrote with a St. Lucian heart. Even though he might have been miles away, St. Lucia was always the main character. It is also important that whilst you pursue this, you seek faith out, God is so important. And, be strong for YOU. It is amazing how hard it was to get someone established to help me develop as a writer, quite shocking too since passing the baton is necessary and I could've given up, know that you have a right to write if that is what you really want to do.