Gives $To SMC, SJC.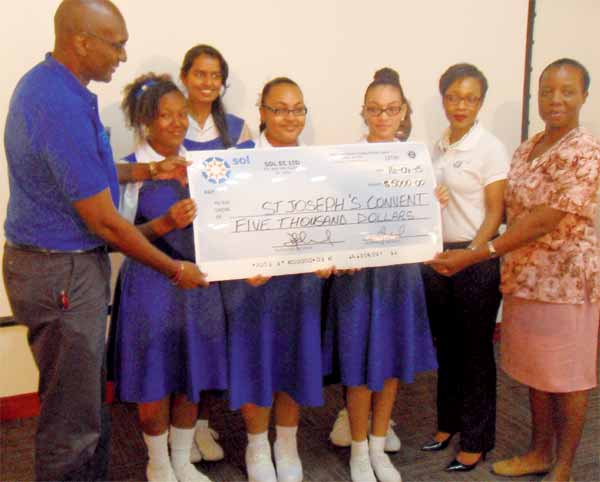 TWO separate cheques totaling $10,000 were handed to two secondary schools on the island for two different purposes but targetting students at each school.
The cheques came from the coffers of SOL, the leading supplier of energy products here and in the Caribbean, and were part of the company's corporate citizen's profile, which was demonstrated Thursday during celebrations marking their 10th anniversary.
One cheque went to St. Mary's College and the other to St. Joseph's Convent.
St. Mary's College will spend his money on students who are financially disabled but who have proven to be intellectually sound. They are students who cannot afford to even pay the normal bus fare to get them to school.
Therefore it was not surprising when Rowan Seon, Principal of St. Mary's College enthusiastically thanked SOL for its generous offer of $5000 to assist students who fall in that bracket, adding that there were lots of them, according to him.
"People seem to think that because St. Mary's College is a top school it does not have students who are in need. They are wrong. We have 45 students at the College who fall into that bracket of need. Sometimes they do not even have money for a bus to take them to school," Seon said.
"That money will go directly towards helping them," he added.
St. Joseph's Convent which also received a cheque of the same amount from SOL, will be spending its money differently.
The Convent will put the money into the training of senior students from the Rank Prefect Body and the school's other young leaders. They will be trained in leadership roles in the running of the school.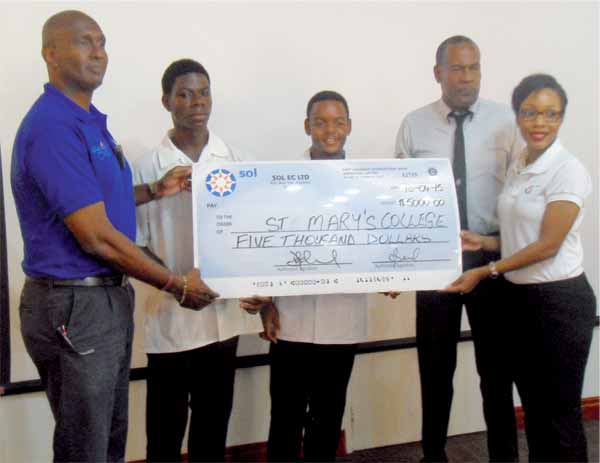 "We at Sol are continuing to make a significant contribution to youth development in Saint Lucia. In line with our 10th anniversary v activities, we have renewed our commitment to supporting initiatives that enhance the personal development and social welfare of young people in Saint Lucia," Lawrence McNaughton, General Manager to Saint Lucia and Dominica said.
The petroleum company, which operates in 23 countries in the English, French and Spanish speaking Caribbean, will be taking its youth development initiative to another level later this year by throwing its support behind the Saint Lucia Jazz and Arts Festival Young Musicians Programme.
That programme is designed to run as a series of workshops in secondary schools here. It is expected to give students the opportunity to learn or enhance their musical talents.
"Sol remains committed to the development of education in the Caribbean and recognizes the importance of also supporting educational initiatives outside of the traditional academic structure," McNaughton said.
"It was a pleasure for Sol to lend a helping hand to these organizations," McNaughton said, adding that these types of programmes are critical for creating an environment where the country's youth can "grow and prosper", as this was a sustainable way to achieve human development on a national and regional scale.