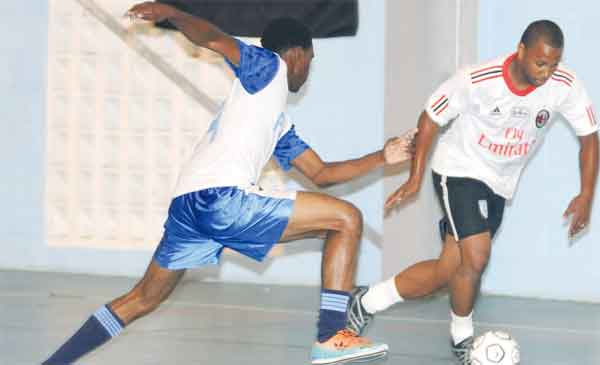 A full house is expected at the Beausejour Indoor Facility tomorrow evening for the final of the St.Lucia Chamber of Commerce inaugural Commercial House Futsal League. Like the semi final round the horns, whistle blowers will be heard in the distance.
For the third place silver ware FLOW and LIME will flex their muscles for a podium finish from 6:30 p.m., while Peter and Company plays St. Lucia Distillers from 7:30 p.m.
It was only standing room available in the semi finals played last week Friday at the same facility. In Game 1 Peter and Company defeated FLOW 4 – 1. For Peter and Company Marcus Toussaint scored a hat – trick and Ashlie Edward scored the other goal, while Anthony Christopher scored FLOW's lone goal in a losing effort.
In the second semi final on the evening, St. Lucia Distillers continued their onslaught on main stage at the BIF when they breezed past LIME 4 – 0. For Distillers, Kevin Antoine scored the second hat – trick of the night, while his teammate Bertrand Henry scored the other to secure the final spot.
Meanwhile, the tournament over the past few playing days has certainly met its objective according to the organizers the St. Lucia Chamber of Commerce as the crowd support continued to grow along with the high level of play exhibited on court at every game.