After Farmer Drowns In River.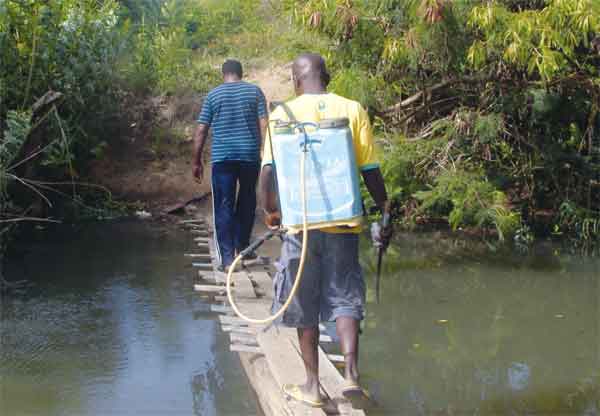 THE drowning of a young man in the Black-Bay River in Augier, quarter of Vieux Fort, has led to renewed calls for a proper bridge to erected across the river where the tragedy occurred.
The call is coming from residents of Augier and Laborie, especially from farmers of the Black-Bay Small Farmers Co-operative Society Ltd, whose farms are located in the area. The farmers use the bridge frequently.
The body of Julius Bourgeois, 30, a farmer of Augier was found in the river last Friday morning, next to a make-shift bridge which residents of the area built. His body was discovered by another farmer less than 15 minutes after he was last seen alive.
Residents feel that Bourgeois would have still been alive today had there been a proper bridge across the river.
According to the concerned residents, the tragedy has forced them to make a more serious attempt to have the authorities build a proper bridge across the river, sooner rather than later. They say whenever the river rises, it requires some degree of skill for someone to cross it using the makeshift bridge.
The several bridges which the residents have built across the river over the years, have been damaged and had to be replaced whenever the river overflows its banks.
Residents say a few decades ago, a proper bridge was built, but because it facilitated thieves stealing from farms in the area, a few influential persons in the area had it destroyed.
Patrick Mathurin, a resident of the area said: "Whenever the river overflows its banks we have to seek alternative routes to get to the other side of the river. We really need a proper bridge in the area."
He added that he will continue to do whatever he can to ensure a proper bridge is built, adding that almost single-handedly he has been trying to get the authorities to do something to relieve them of their plight. He said during the course of this week he will be taking the concerns of the residents to the district representative Alva Baptiste, hoping he will come to their assistance.
"We are behind God's back…," he lamented.
By Kingsley Emmanuel