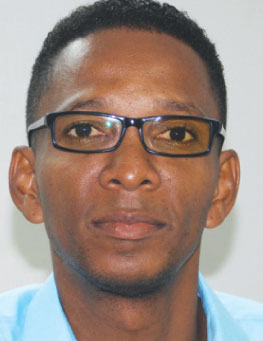 SOMETIMES the best way to view the world is through the eyes of a child. Inasmuch as they're often shunned by adults who think they ask too many questions, children have proven to be the very minds we should consult whenever we need to solve many of the world's greatest headaches.
While making the rounds yesterday at Derek Walcott Square where the National Schools' Science & Technology Fair is currently being held, I met some of the future's best scientific thinkers. Those primary to tertiary level school children were able to describe their projects with so much eloquence and clarity that at times I got the impression they thought I was really a judge and not a journalist.
I did several interviews with the various children representing schools from across the island. But the child that really stood out for me in terms of marketing an idea was 11-year-old Natania of Canon Laurie Anglican Primary School. Natania and her four colleagues' project, an automatic homemade aquarium filter, is said to be more efficient and cost-efficient compared to aquariums available on the market. According to her, the fishes thrive best in the custom-made aquarium the students entered into the fair. The other members of the quintet – Izik, Ezekiel, Desne and Paul — even had a regular aquarium as well as a control display to prove their findings. Clearly, these young scientific minds did their research.
The confident and fluent manner in which Natania described her project to me is something I will remember for a long time. She was able to use scientific terms to convey her ideas as clear as day. Throughout that interview, I got the impression that she would put many marketing and advertising managers in the shade in a corporate boardroom. Even better, any reporter traipsing into her booth and asking generic questions like "Can you give me a synopsis of your project?" or "What's today's activity all about?" is sure to be embarrassed with Natania's articulate way of expressing her intelligence.
I cannot say that I know Natania's parents or her teachers personally. What I can say, however, is that it seems obvious that she's the kind of child whose parents or teachers do not shush whenever she asks questions. If that's the case, then kudos to her parents and teachers as such a practice needs to be encouraged more. There's a longstanding culture in the Caribbean to shut children up when they ask questions, especially for which adults either don't have the answers or are not brave enough to offer. That needs to stop if our childrens' creativity needs to shine. If we keep shutting children up, then we're to blame when they remain close-minded and timid in later years. We have enough of those people around and we certainly don't have space for more.
In this changing age of technology, our children seem to be adapting better to the latest trends in science than we are. While the traditional norm seems to be that all technological advances need to be imported, there are cases where Saint Lucians are demonstrating that with a curious mind – and sometimes the need to be gainfully employed – childhood curiosities are manifesting themselves into scientific discoveries in adulthood. For many, it all starts with science.
The science fair runs until Friday – all day, same venue and admission is free. Close to 50 interesting exhibits, ranging from how to turn trash into treasure and making shoes from discarded materials, are on display. The projects might seem small but given the fact that great ideas start from small, Natania and the other students might well be the next big names in science. If you asked me, Natania just might have the next best idea the scientific and fishing communities have been waiting for.
Right now, she's doing a great job of selling it, too.