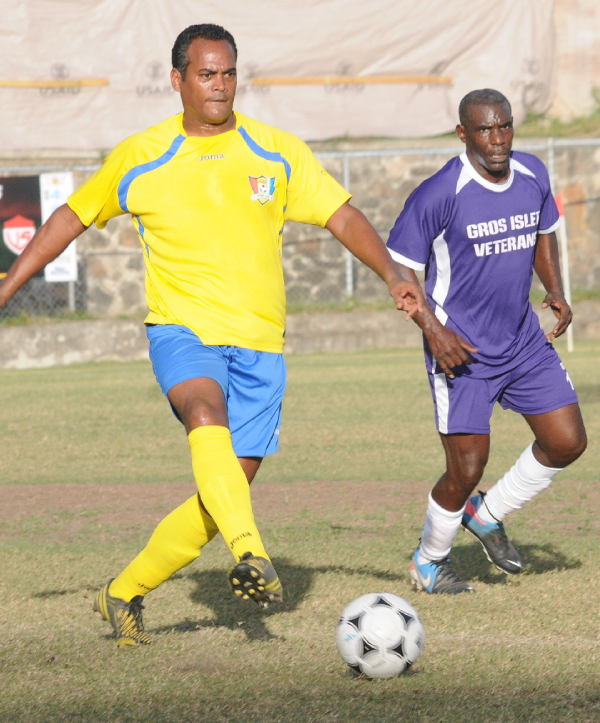 TWENTY one goals were scored in four quarter final matches as the 2014 – 2015 Veterans Football Tournament continued at the Soufriere Mini Stadium this past weekend.
Defending champions VSADC, Behind the College, Soufriere and Caricom Masters have all booked semi finals berths for more action this Saturday at the same venue.
Last Saturday evening in what can best be described as one of the best matches played in the tournament thus far, VSADC relied on two outstanding goals by RohanLubon to give them a 2-1 win over Vieux Fort South in Extra time after the regulation time had ended 1-1. Former national midfielder Nicholas Marcellin had scored a late equalizer for Vieux Fort South in regulation time.
On Sunday, Caricom Masters registered a 2-1 win over Gros Islet Veterans. Goals from Keith Thompson and KirtonCollymore gave Caricom Masters their win, while Stewart Alcide got a consolation goal for Gros Islet.
In game No.2, a double strike by former national player Mathias Jules in the 7th and 14th minutes led Behind the College All Stars to a 3-1 win over Dennery All Blacks. Jerry Reneau scored the other goal for Behind the College All Stars in the 10th minute. D'Olivera George scored Dennery's only goal in the 81st minute.
In the final game of the evening there was an 11 goal thriller as home team Soufriere nosed ahead Anse la Raye 6 – 5 afterAnse la Raye had taken a very early 2 – 0 lead. However, Soufriere came back and led 3-2 at the half time whistle and 5-2 at one stage in the encounter.
At regulation time the match ended 5-all but former national player Agustus Lucien converted Soufriere' winning goal in the 102nd minute of the encounter after earlier converting in the 53rd minute.
The other goal scorers for Soufriere were Mc Kingly Marquis in the 12th minute, Dorville Edward in the 19th minute, Jerome Servile in the 27th minute and Simon Abraham in the 64th minute. FabianAimable in the 3rd minute, Eric Longville in the 7th and 68th minutes, Benjamin Gabriel in the 72nd minute and a Velbert Sylvester own goal had Anse la Raye on the score sheet five times. Meanwhile, the semi finals will kick off from 6:00 p.m. this coming Saturday when Behind the College All Stars comes up against Caricom Masters while VSADC plays home team Soufriere at 8:00 p.m.
The final is scheduled for January 31.