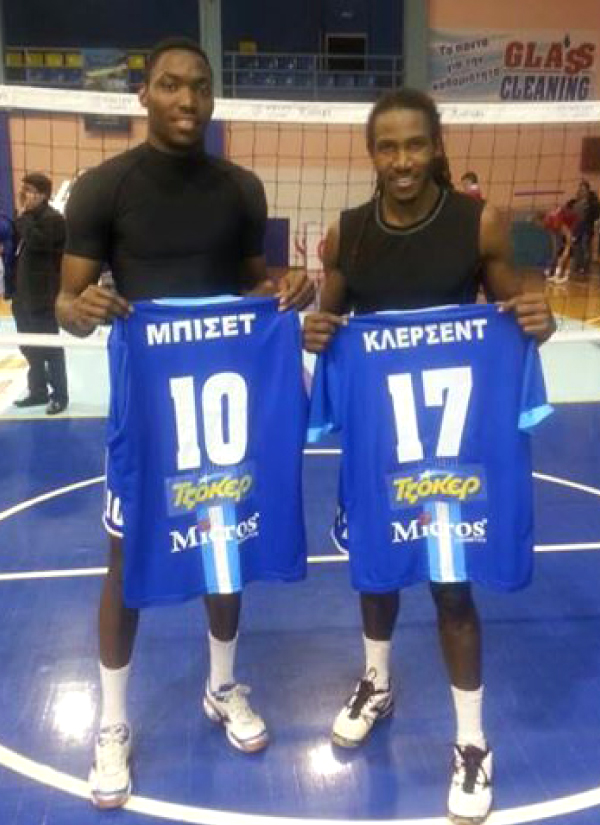 THE sport of Volleyball ended 2014 on a high note when Joseph Clercent joined Greek 1st Division Professional Club, Ment, on a five month contract, in the first instance and with St.Lucia senior men's team winning the Eastern Caribbean Volleyball Association Championships.
According to Brian Louisy, President of the St.Lucia Volleyball Federation, Clercent is the other half of St. Lucia's top beach volleyball pair and two time Volleyball Player of the Year (2012 and 2013), as well as two time MVP of the Eastern Caribbean Volleyball Senior Men's Championship (2012 and 2014).
Joe, as he is affectionately called, was offered the contract on the urging of his beach volleyball partner Julian Biscette who was already enjoying a standout first season with Club Ment. With help from three key partners, the St. Lucia Hotel and Tourism, the St. Lucia Olympic Committee and the Minister of Youth and Sports Shawn Edward, Joe was able to grasp the offer.
Louisy noted; "Needing to find his way to Caracas, Venezuela, to apply for a visa and work permit, and then fly on to Thessaloniki through Athens, Greece, the Association, sought help to assist Joe in this financial venture. All three financiers came forward quickly and enthusiastically as all this had to be done in less than one week".
Using the St. Lucia Hotel and Tourism's Development Fund, NooraniAzeez, the Executive Vice President indicated that the carrying of the St. Lucia flag far afield by the youth of St. Lucia was something the SLHTA enthusiastically supported. "We want to see the young people of St. Lucia show the world the greatness and beauty of St. Lucia" said Azeez.
Louisy said: "Joe sealed his case for support by placing sixth in the recently concluded Beach Volleyball Men's Division of the 2014 CASCO Games in Vera Cruz, Mexico last November 29. He flew out the following day to get home in time to join the Senior Male Team preparing to defend their ECVA Championship in Antigua December 4 to 8. Joe was handed the Captain's stripe for the first time in his career and did he lead".
St. Lucia won the tournament and Joe was named MVP, Best Outsider Hitter, Best Receiver and Best Scorer at the end of the tournament.
The SLVA Boss said, " Joe and Julian now have the unbelievable opportunity to make a name for their country as they try to bring the same success they have brought to St. Lucia to Club ment. The club has also pledged to provide beach volleyball training facilities and help them so they can continue representing St. Lucia at the end of the season".