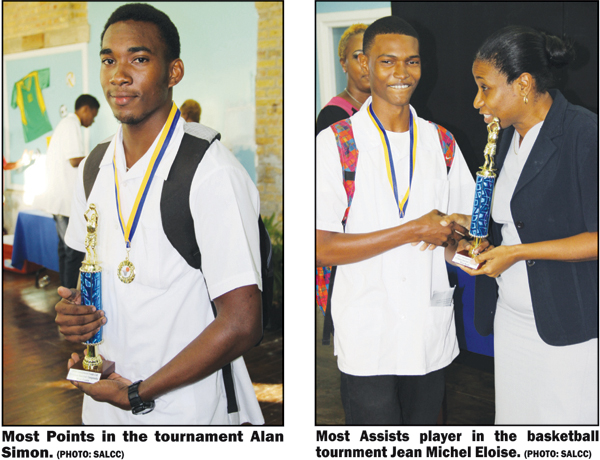 STUDENT athletes who represented the Sir Arthur Lewis Community College in football, netball and basketball were recognized on Thursday as the school hosted a special reception in their honour.
According to Gilroy Hall, each player received a certificate of participation from Vice Principal, Merle St. Clair Auguste while the basketball team received their gold medals and Championship Trophy from Team Manager, Dora Henry along with the Vice Principal.
Individual awards went to Allan Simon who scored the most points and Jean Michel Eloise who captured the awards for most assists and Most Valuable Player.
President of the SALCC Student Council, YohanFevrier, a basketballer himself, thanked the College for recognizing the importance of sports and social activities at the tertiary level, and encouraged the student athletes to pursue excellence both on and off the field of play.
Noticeably absent was the coordinator for school sports who was supposed to have represented the Ministry at the prize giving ceremony.
In her brief remarks the Vice Principal of the College praised the athletes for their enthusiasm, dedication and discipline and reminded them that their sporting success should complement and not contrast their classroom performance.
Coaches, team managers, students and staff supporters also attended the function which was held in the gymnasium.