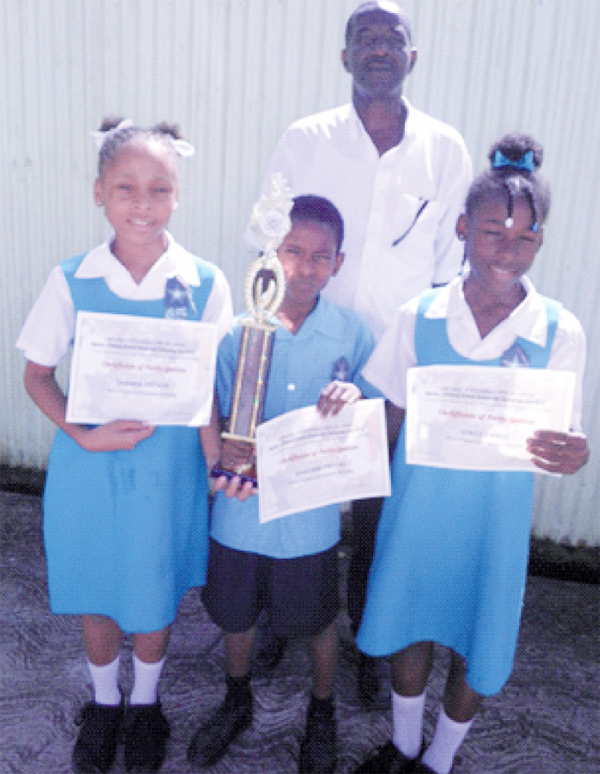 ON Tuesday afternoon this week, there arose during the quiet monotony of instruction time, a quiet roar climbing into a crescendo of applause.
What was the big commotion about? What would dare disrupt the students' and teachers' timeless journey of academic excellence? Here it is! We won! The Marchand Combined School was once again triumphant at the District Three annual Science Quiz; champions of the seven primary schools in the District.
The competition now in its third year, aims to nurture and develop in students and teachers a love for the sciences. It helps to sensitize the students on the important role of science in our everyday lives. This conscious awareness in our lives also helps to create linkages between the sciences and other pedagogical fields like mathematics and social studies.
If MCS were to win the prestigious competition one year, one might say that it was a coincidence, a "fluke", a chance achievement. To have won it for the second consecutive year out of three solidifies the educational institution as indeed, a force to be reckoned with, and a veritable powerhouse of great scholarly achievement.
Our school deserves every ounce of respect that it earns in turning out champions, not only in the sporting field but in the academic genre.
For almost the entire first term, the head of the Science Department, Mr. Francis Regis and Science Coordinator of Training Ms. MacrinaLeonce worked tirelessly in training a cadre of students from grade five, namely Tamara Octave, ShervelleTrimmingham, Yan Casimir, Malaika Narcisse, Anika St. Rose, Joachim Pascal and Tracey Daniel.
The students learnt facts, carried out investigations, and conducted experiments, all in an effort to create authentic learning experiences for the students, to ensure that maximum memorization and learning took place. The students enjoyed learning exercises and often shared the results of their learning with their peers in the classroom.
In the end, Joachim Pascal and Tracey Daniel were chosen to represent MCS in this academic call to arms. Their weapons of choice- a love for science, a strong knowledge of the subject matter and a sturdy foundation in the art of competition. No truer or more apt commanders were ever trained for scholarly battle. As MCS dons the hat of victory, the school marches on towards a new year, ever ready to participate and once again win!
And so, the students, the staff and proud parents walk with heads held up high as every ounce of the victory is savoured. We prepare for the national competition on February 18.