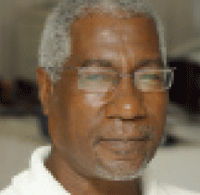 A good friend recently posted to me a piece of a post he pulled down from somewhere on Cloud Nine. It was a long chain, posted to many persons responding to something I said on TV this past Monday night.
In response to a reporter's question about whether I felt Press Freedom was threatened globally by the slaughter that took place in Paris at the offices of the French satirical magazine 'Charlie Hebdo', I roundly condemned the murder of fellow citizens by extremists also born in France and said it simply could not be justified.
That being said, I explained how my interpretation of 'Press Freedom' differs from the regular, pointing out that I always insist that with every 'freedom' must come an equal 'responsibility'. I said I didn't think the cartoonists and editorial decision makers at 'Charlie Hebdo' had a right to feel free to 'pappyshow' the God of any religion without any care or expectation of those offended feeling equally right to respond equally hard.
I said their office having already been attacked by the extremists back in 2006 resulting in permanent police protection being sought and assigned, those being protected to express their freedom to insult were also being stubbornly provocative in continuing to express that 'right' and 'freedom' with even more insulting force.
I argued that the 'Charlie Hebdo' people are of a similar breed of the equally fanatic and extremist lunatic fringe that had already attacked them before — and yet again, with such deadly force. I regarded the victims as representing an element of European and American (Western) interpretation of 'Press Freedom' that means you can say anything anytime about anyone and don't have to care about how they feel or expect them to respond. You are simply expected to expect that, if you stamp on someone else's foot, the offended person should simply see that as the offender's way of expressing his or her right to offend you — and you are not supposed to feel the pain, far less react to it.
I argued that in my book of rules, we have to be as fervent about being responsible as about being free.
Of course, those who posted the comments sent me by my friend didn't see or hear all I said. The only sentence that caught their eyes was: "I know of no Caribbean journalist who wants to die for Press Freedom." I said our historical, traditional, religious, cultural and other related mores in the Caribbean are still such that we place a higher premium on life than others, especially from other distant civilizations. I said that as majority Christians, most Caribbean people so value living that we simply don't ever want to die. I quoted Peter Tosh singing the telling Caribbean truth that: "Everybody wants to go to heaven, but nobody wants to die."
I said too that if those who preach hate against Muslims are to believe the things they preach to us about Islam, they should also have figured-out that people willing to die (just to go to heaven, as they claim) will not think twice if and when they felt the time had come for the long-awaited trip of their lifetime.
I suspect those posting to the clouds didn't say so, but some had a problem with what I said. Thing is, in all the posted mail I read, none even tried to prove me wrong or right, none offered any interpretation of what I had posted, none said anything at all… The posters were only posting responses to each other like a conversation meant never to end, none adding or subtracting, none dividing or seeking to multiply either constructively or otherwise. The post just went on and on, with the same people saying the same things, on an on, over and over again, as if to outdo each other in a conversation without end.
Then on Thursday, two days after my previous article about "The day Leslie Pierre died" was published here this week, I read an online story that another veteran Caribbean media icon had died. This time it was Trinidadian journalist Raul Pantin. Raul was one of the persons detained for several days in the Trinidad & Tobago parliament building after Yasin Abu Bakr and the Jamaat al Muslimeen had taken the country over by force of arms. He lived to write a book about it in which he expressed all the regrets and admitted he's been driven into alcoholism thereafter to drown his permanent related stresses. He admitted he never knew what he would have done if ever he met Abu Bakr. But he lived on for 27 years after and died at 71, never once feeling he should pick up a gun or a bomb to exact his revenge on Muslims or Islam.
Nobody believed in Free Press and Freedom of Speech more than Raul, who chose to live to defend those rights and freedoms responsible enough to live his life out and die in his sleep.
Raul Pantin and Leslie Pierre left forever in the middle of the worldwide effort to turn us all into what those at Charlie Hebdo represent. Between their peaceful deaths, the ingrate survivors not only repeated their insults to the Muslim Prophet Muhammed. They also said they spat on the millions of new-found supporters holding placards around the world proclaiming 'I am Charlie!'
Not me! I want to live long to continue to do my work freely and responsibly, which is why I declare right here, for everyone to see and hear, that 'Je ne suis pas Charlie!'