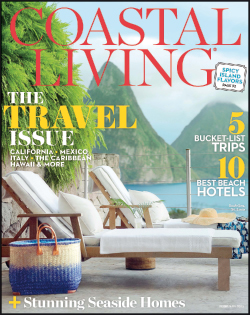 SAINT Lucia's Jade Mountain Resort scored once again by being featured on the cover of the just published February issue of the prestigious "Coastal Living" magazine, enticing travellers to consider Saint Lucia as their next vacation destination.
Inside the magazine, Jade Mountain is showcased as one of the world's best hotel destinations.
With a circulation of approximately 650,000, "Coastal Living" magazine celebrates and explores the coastal lifestyle and serves 4 million diverse readers who live on the coast and inland.
Along with CoastalLiving.com, "Coastal Living" features award-winning stories on home design and architecture; travel,food and entertaining; gardening, coastal towns, communities, and characters; the environment, and more.
Whether readers live on the salt-water coasts of the U.S. or Canada, along the Great Lakes or in the Caribbean, they share a passion for life along the shore. "Coastal Living" celebrates that love and highlights the inescapable lure of the coast.
The magazine's coverage includes the east and west coasts of North America, as well as the Gulf Coast, Great Lakes, Alaska, the Caribbean, Canada and Mexico. The magazine aims to bring a little piece of paradise to its readers with each story — and always with a coastal angle….
For more information about Coastal Living magazine, visit www.coastalliving.com and for more information about Jade Mountain, visit www.jademountain.com