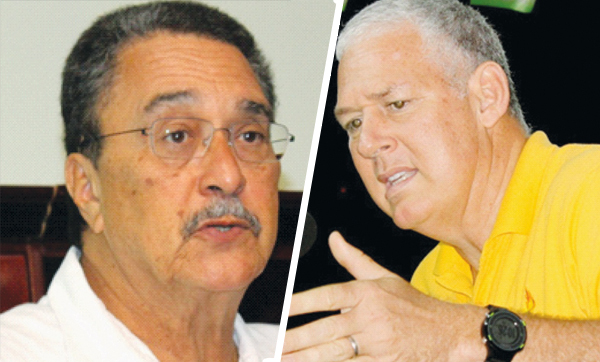 UNITED Workers Party (UWP) Political Leader, Allen Chastanet, says his party is giving government enough time to come better with its recent fuel adjustment rates in anticipation of his party's January 29 protest march.
Chastanet told The VOICE that while he believes that government needs to make its fair share on taxes, the economy needs some breathing space. He said he remains convinced that government is making much more on fuel than it is disclosing. With gasolene and diesel now being sold at $13.64 and $13.21 per gallon respectively, Chastanet said the cheaper the price of fuel at this time, the better for the ailing economy.
"By not having the cheapest fuel prices, it's going to affect our competitiveness in the world," Chastanet said. "For instance, why is it that electricity prices have not come down? All of our manufacturers who depend on transportation and production and our Chamber of Commerce and other businesses who depend on distribution will be affected. As a result of this, it's going to have a higher cost of living impact here in Saint Lucia."
Chastanet referenced islands such as Dominica, Saint Kitts and Saint Vincent and the Grenadines among those that have lower fuel prices in lieu of the cost of crude oil on the world market declining of late. He said any decrease in global oil prices should result in significant savings for the consumer. He also questions the formula government cites as its basis for the fuel adjustment rates, describing government's C.I.F. of $8.66 and $8.51 for gasolene and diesel respectively as "a manipulated price".
"Why did they choose $8.66 when we've seen that C.I.F. prices throughout the region have dropped below $6.00? In the previous quarter, the C.I.F. price was around $6.90. So there's something fundamentally wrong with their analysis," Chastanet said.
Chastanet spoke to The VOICE after his party wrapped up a public meeting near Clarke Street in Vieux Fort, a stone's throw from a gas station. Scores of party supporters turned out to listen to key party officials state their case on the one-week-old issue that continues to attract diverse feedback.
Chastanet said he remains "extremely disappointed" with many associations, many of whom really on fuel as a factor of production. He said their silence on the matter leaves him "amazed". Chastanet said that while he understands that it remains the role of government to make the necessary fuel price adjustments, Saint Lucia ought to have either the same or cheaper prices for fuel compared with other regional territories.
The UWP leader said his party would also like to see government arrive at a decision regarding bus drivers and their proposed fare increase reported to take effect on January 31. He said that should government be able to convince bus drivers not to increase their fares, "that's something we can look at." Chastanet added that his party is "100% confident" in pursuing its latest challenge to the government's fuel policy, adding that workers now have a legitimate right to clamour for pay increase.
Chastanet said the protest march is scheduled for 5:00 p.m. and will begin near the Vigie Complex heading into the city circuit. He said that timing of the protest march was strategic so as not to affect the normal working hours of prospective protestors. A party source told The VOICE yesterday that a number of social groups have already given their indication to participate in the march.
Meanwhile, Prime Minister Dr. Kenny Anthony dealt with the issue concerning adjusted fuel prices which has fuelled debate since they were made public on January 12. In his New Year's Address last Sunday evening, he said that wholesalers' and retailers' margins when added to the landing cost of gasoline over the accounting period totals $10.62. He said claims by the opposition UWP and others that government has included "hidden taxes" in the new adjusted rates are misleading. He said government needs to err on the side of caution in light of any sudden increase in oil prices on the world market.
"If the price of a barrel of oil declines even more sharply in the next few weeks, it may well make sense to adjust the period of calculation from twelve weeks to eight weeks or even less in the short-term," the prime minister explained. "Whatever adjustments are made, we need always to remember that we also have to ensure that our fragile fiscal situation does not deteriorate any further."