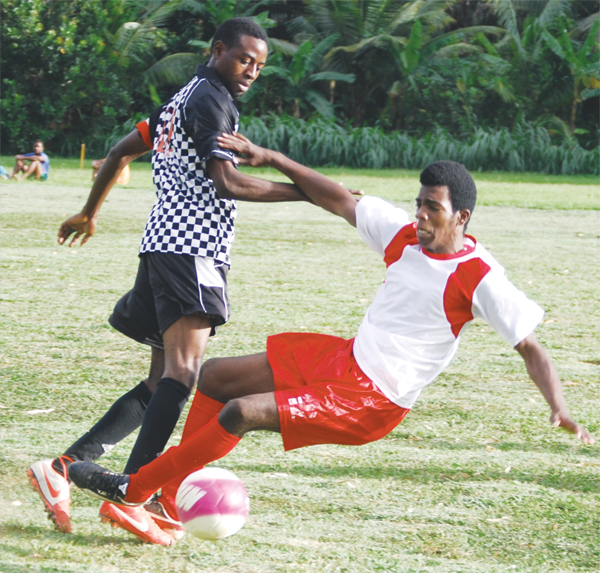 FOOTBALL action continued in the Eastern Zone of St.Lucia Football Association's Under – 23 tournament played at the Grand Riviere Playing Field (Dennery) Tuesday in front of a disappointing crowd of fans.
Home team Aux Lyon, needing a win to stay in contention for a quarter final berth was held to a 1 – 1 draw by Group A leaders Lime Light Atlantic Ballers from Micoud.
At the start of play both teams failed to control proceedings as they struggled to keep possession of the ball on an uneven playing surface, and in the process squandered a combined five clear scoring opportunities in front of goal. With two minutes left in the first half Lime Light Aquatic Ballers No. 6 Dwayne Charles put his team ahead with a feeble shot that eluded the Aux Lyon custodian DonnavilleAugustin to the dismay of many spectators.
On the resumption following the break both teams stepped up the tempo a few notches as they showed some urgency on the square, but midway into the half it was back to business as usual with a combined four easy scoring opportunities by both teams falling going abegging.
With numerous shouts for a goal coming from a small pocket of Aux Lyons fans on the western end of the field their call was finally answered when Aux Lyon United's is No.19 Julius Louisy who made amends for throwing an easy chance in the first half. He capitalized on a free ball in the area in the 75th minute to give his team the much deserved equalizer with a right foot shot that eluded Lime Light Aquatic Ballers and national under – 23 custodian Noah Didier to his left.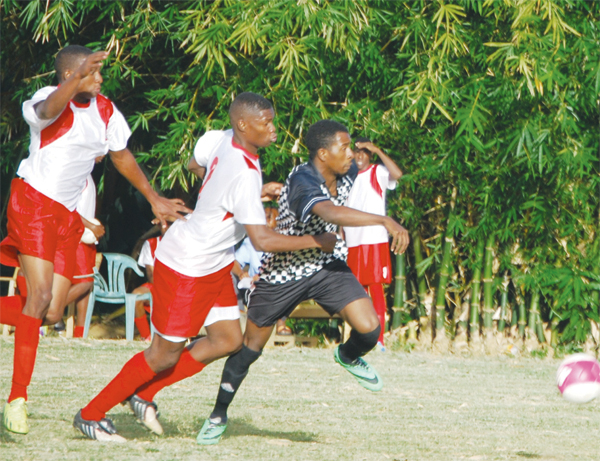 Meanwhile, following the encounter the VOICE spoke with the Director / Coach of Lime Light Aquatic Ballers Allen Providence regarding his team's performance. He said: "As anticipated I knew it would have been a difficult game against Aux Lyons, to date we have yet to be defeated as we have won our first three games. Coming into this game I told my players we are going for the win but we came up with a draw to top Group A with 10 points".
Asked if he was satisfied with his players performance, he replied, "No, certainly not. I will be honest; we have not trained since our second game and that is because we were in the festive season. Most of the players took some time off and opted not to train. Also school's reopened on Monday which was also a hurdle, as most of the players are fifth formers and are preparing for CXC. So you can just imagine the struggle that I have with the various parents to allow the players to train and play".
With a 1 – 0 lead at the halftime whistle did he try to protect the lead or you try to score some more goals. Providence said, "When I realised the way Aux Lyons was playing, apparently they wanted to score and it was evident that they looked a bit exposed because they were just throwing bodies forward. I spoke to my players and told them that we needed to hit them on the counter attack, We got at least two opportunities but by then we were a bit tardy and indecisive in the attacking, hence the reason we did not capitalize on scoring the goal".
Providence concluded, "We definitely have to go back to the drawing board. I have already mentioned to my players training resumes on Thursday. But nevertheless we are awaiting our opponent and that should be the Runner Up from Group B".