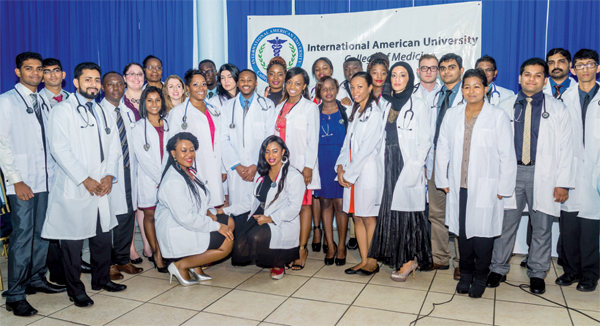 FORTY seven students have enrolled with the International American University College of Medicine (IAUCOM) for the M.D. (Doctor of Medicine) and Pre-med programmes. The thirty two M.D. students began their journey into the medical profession formally at a White Coat Ceremony, held at the National Skills Development Centre (NSDC) in Vieux-Fort on Friday.
A striking feature of the glittering ceremony was the donning of the white coat by the students who were showered with words of inspiration by the various speakers, who included professors of the school and the Medical Director of St. Jude hospital, Dr. Carlene Radix.
The students recited the Hippocratic Oath which spelt out what is expected of them as physicians in training. It reads in part: "I publicly acknowledge and accept the privileges and responsibilities given to me as a physician in training and dedicate myself to provide care to those who need…"
Dr. Radix stressed the importance for medical students and doctors not to procrastinate when it comes to their work or studies, quoting from a book by world renowned doctor, Dr. Seuss, which emphasized that what is needed to be done today, be done "superbly well" today.
"Some students think they have to have seven books on each subject, but this is no good if you don't actually read one book cover to cover, and ensure that today's work is done, and not just done, but done superbly well," Dr. Radix told the students.
She urged them to chart their journey, because failing to plan, was planning to fail.
Dr. Radix also implored the students to use all their senses to learn and communicate with their patients, from which she says they can learn a lot, as it relates to their (patients) health condition.
"Every day you see a patient you must use all your senses so you can know what is normal like second nature and what is abnormal even when it is an abnormality you haven't seen before. Observe, record, tabulate and communicate…," she said.
She advised the students not to be afraid to interact with their patients and ask them hard questions to make a thorough examination.
Quoting from the book by Dr. Seuss, she stated "he who studies medicine without books sails an unchartered sea, but he who studies medicine without patients does not go to sea at all."
Director for Recruitment at IAU, Dr.Daniyal Saud, told the students that becoming a physician was "no different from developing your human, social, ethnic and religious identity. The next four years of your life you will be developed so you will identify yourself foremost as a physician, symbolized by this esteemed white coat."
He, however, admonished them that they should not let the symbol of the white coat, cause them to display arrogance, robbing them of the compassion and empathy which they should demonstrate at all times.
"Patients will see this coat as a source of knowledge and skill, but many will not fully extend their trust to you until they feel the sense of humility and individuality that lies beneath the white coat," he said.
Saud called on the students to respect the white coat and live up to the principles of medical students and physicians.
"As you don your white coats for the first time, I ask you to think a second about that first step you took and realise that this is the first step to a development journey which will be exciting, frustrating, but at the same time the most fantastic journey you will ever take," Saud said.