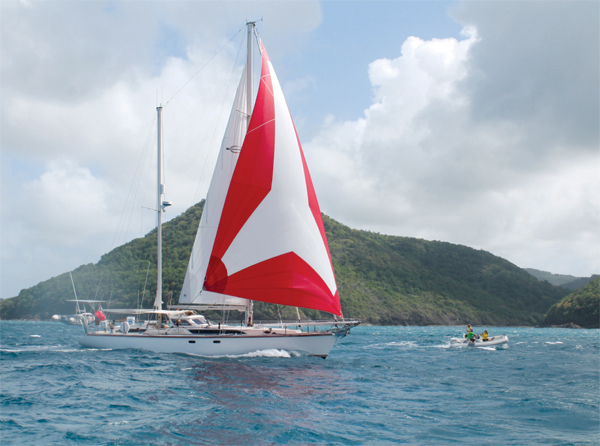 THE World ARC around the World fleet departed from Rodney Bay on Saturday at the start of an epic 25,000 nautical miles adventure up until April of 2016. World ARC is a circumnavigation rally for cruising boats, with a mix of organised stages and free cruising.
Meanwhile, further east of St. Lucia, in South Africa the seasoned adventurers of the World ARC 2014-15 fleet re-started after a two month break for their final ocean leg towards Brazil via St. Helena.
For the St. Lucia leg, accompanying the boats for the final Bon Voyage Wave just north of Castries on board "Reel Extreme" was World Crusing Club Managing Director Andrew Bishop, Director of Tourism Louis Lewis, SLTB Public Relations Manager John Emmanuel, members of the Royal St.Lucia Police Force Marine Unit, Customs and Excise Marine Unit and members of the local media.
Despite the blue sky, sailing conditions can best be described as squally with winds in excess of 20 knots and waves up to 8 feet or higher in open water as the boats head down towards Castries. From here on the boats have 1100 miles ahead of them before arriving in the San Blas islands of Panama.
Speaking to members of the media, Bishop said: "The 22 strong fleet and close to 100 sailors, not as many as last year, will head to Colombia for the first time and will take at least five days to reach the Marina Santa Marta on the Caribbean coast of Colombia".
He continued: "They will be breaking new ground for the rally as it is the first time that the event will visit the South American port that is rapidly becoming popular with blue water sailors as a comfortable base for discovering the dramatic landscape and pre-Hispanic heritage of the region. Then the fleet will transit to the San Blas Islands before going to the Panama Canal, then set off across the Pacific for Australia, stopping at some of the most idyllic Pacific islands en route, including Galapagos, HivaOa, Tahiti, Bora Bora, Niue, Vava'u, Fiji and Vanuatu".
As to the trouble spots like Somalia, Bishop said: "They will be avoiding the troubled areas of the Indian Ocean and other areas of concern, for sure. The World ARC route will also take in Bali, Cocos Keeling, Mauritius and Reunion. From Cape Town the boats will visit St. Helena, Brazil and then head back into the Caribbean, spend a couple of days in Grenada before finishing in St. Lucia sometime in April 2016".
World ARC is an international event, with boats sailing under the flags of a number of nations, and crews coming from Germany, Netherlands, Australia, USA. Switzerland and England.