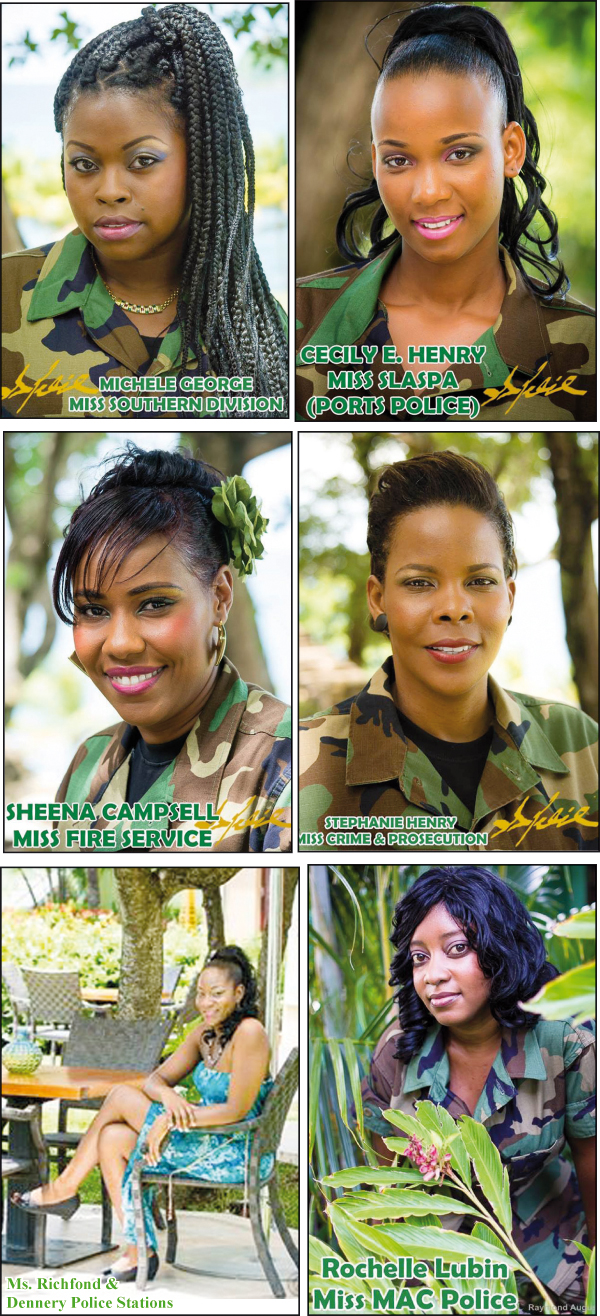 SIX contestants will hit the stage at the National Cultural Centre this evening, seeking the title of Miss RSLPF" as Police Week winds down. They represent various divisions of the Royal St Lucia Police Force. Let the contestants tell about themselves:
Ms. Southern Division
My personal Motto:- "I can do all things through Christ who strengthens me". I am 27 year old Michelle George WPC 756, attached to the Criminal Investigations Department (Southern Division). I possess a myriad of personal characteristics such as Ambition, Charisma, Enthusiasm, Determination and Perseverance.
My family life has played a critical role in my development. I take pleasure in spending time with family and friends, dancing and enjoying a relaxing and rejuvenating day at the beach.
I am currently a student at the University of the West Indies pursuing a Bachelor's Degree in Youth Development. Youth and the many challenges confronting them form part of my passion. I envisage myself as being a role model to many by personally interacting with them and providing positive alternatives through self-confidence and self-esteem.
I believe having a positive self-image accompanied by high levels of confidence and esteem plays a vital role in personal development.
Ms. SLASPA (Port Police)
I am Cecily E. Henry. With the world as my stage, Sulphur City, Soufriere served as the cradle of my birth. Hence my girlish looks remained though being 24 years of age. As a current resident of Laborie, my social life is wrapped up in spending quality time with friends and curling up with a good book.
Being embellished with the joys of motherhood, my four year old son serves as a source of motivation. My every step towards my professional and social development is geared at his future.
My education at the Soufriere Comprehensive Secondary was also enhanced as I explored Accounting at the Sir Arthur Lewis Community College as a part-time student.
As a Port Police recruit at the St. Lucia Air and Sea Ports Authority, my professional goal is to climb the hierarchy and be a leader in the Port Police Department.
Ms. St. Lucia Fire Service
The pleasure is mine to meet you through this medium. I am 30 year old Sheena Campsell, from the scenic community of Saltibus, quarter of Choiseul. I pride myself in family life as I believe the family framework is the true foundation for any society.
It's the credence in family values that inspired me to become a part of the St. Lucia Fire Service 12 years ago. I value the true spirit of togetherness and family – feel the working environment provides.
I see adversities as a great motivator, believing that trials do change situations along life's journey, for the better. I challenge myself at the tedious tasks my job entails. As a woman I always aim for success. I believe in self-esteem and confidence as it plays a vital role in personal development.
Ms. Crime & Prosecution
I am a very eloquent and expressive individual. I am Stephanie Tamara Henry, a police officer presently at the rank of Corporal. I am currently attached to the Crown Prosecution Service, in the capacity of Court Prosecutor. I am honoured to be representing Crime & Prosecution.
I enjoy the challenges of physical activities. My passions include football, shooting, volleyball, rugby, amateur boxing and cheer-leading. I enjoy being a police officer because it provides esteemed opportunities to deal with diverse personalities. These opportunities of interaction have contributed towards partnerships that have shaped and empowered individuals in various communities, thus making my work with the general public smooth and productive. I enjoy laughter and have been a very supportive asset to my department.
Ms. Richfond & Dennery Police Stations
I am Emma Matthew originally from the most beautiful and quaint community of TiRocher, Micoud. I am an outgoing and intelligent young lady, who enjoys spending time with family and friends of a positive nature. I am an avid fan of netball, and hope one day to play the game on a professional level. I thrive to do my best at all times, through hard work and a compassionate heart. I find true happiness knowing those around me are happy especially my loved ones.
Ms. Marigot -Anse la Raye- Canaries (MAC) Police Stations
I aim to be my best at all times as I have used the odds associated with my surroundings and change them to positives. From the community of Barnard Hill, I am 27 year old Rochelle Lubin.
Adversity seems to be a part of my journey, as at the age of four years I had a near death experience, where I sustained first degree burns. I view life as a gift and I am thankful for the many positive experiences along this journey. I value family life and I am thankful for the blessing of a wonderful daughter.
My education started at the Leon Hess Comprehensive Secondary School. I currently serve as a Special Police Constable and aim to become a regular officer and hold a position in high office.
I also enjoy and frequently engage in extracurricular activities like dancing, singing and hairdressing.