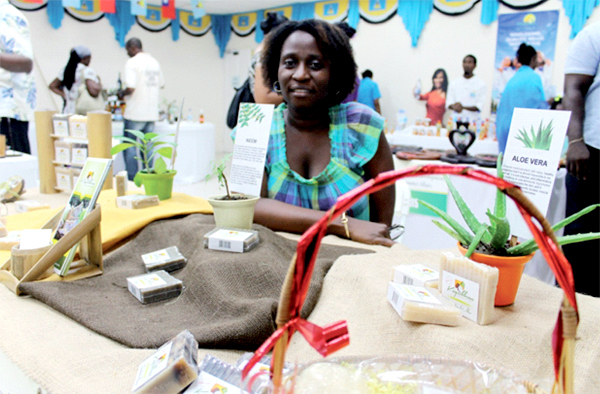 FOR many Saint Lucians, being told that you have a lot of "soaps" can seem like an insult. However, Karen Hippolyte is just one of the few exceptions who seems to delight in being labelled as such. She has literally made a business out of creating some of the most creative and cleansing soaps you'll ever take to your bathroom. And word of it just keeps getting around.
In July last year, Hippolyte officially began her soapy business, KayribbeanHandicrafted Soaps. She says her soaps are made primarily from base oils such as our local coconut oil and olive oil, the latter of which she has to import. She also uses as many natural ingredients as possible and currently has six different types of soap on the market: oatmeal (for exfoliating), neem, miracle leaf/leaf of life (for skin disorders), chocolate almond (made from local cocoa stick), cucumber and aloe, and red wine. Red wine soap, you ask? How come?
"I cannot say that the red wine soap has many beneficial aspects to it. However, some people like the scent of it, and so a lot of men buy it," Hippolyte says, smiling.
Hippolyte says she began making soaps purely out of boredom. She needed something to do and figured that making soaps would be just the hobby she needed. She started learning about the process of making soaps by getting some coaching before furthering her knowledge on her own. After giving a few friends and relatives a few samples to try, she quickly realized that her sudsy hobby was paying off bubbly dividends.
"They loved it and told me to get into it and that's basically how it kicked off for me," Hippolyte tells me. "Soon people were asking me for gift baskets since they figured that not only were the soaps different but that they were produced locally and are also customized. Some people even asked me to make particular soaps for them by telling me what ingredients they wanted me to use."
All of her beautifully-shaped handcrafted soaps are individually wrapped. Apart from the eye-catching presentation, she believes the fact that her soaps are natural and authentic makes it easier for people to relate to them, especially when they can identify the plants from which the soaps are made. Many of her customers, she says, also feel proud knowing that they're supporting local industry which helps in making them feel comfortable using the soaps. Many of those customers are visitors to the island looking for different soaps to bathe with and talk about.
"I've always maintained that the visitors come to the island to see what we have and to experience our culture. We do not give them enough of that. I think that making these soaps from the different plants found on the island gives them that feeling of authenticity. They already know about Dove and those other soaps," Hippolyte explains.
Since opening her business, Hippolyte has participated in a few exhibitions in an effort to showcase her products. Those endeavours, she says, were not really meant for sales per se but more for exposure of which she has gotten a lot of recently. She took part in one exhibition last year and got a lot of feedback and exposure. Right after that exhibition, she said, people contacted her to follow up on what she was doing and to place orders. Last month's Saint Lucia-Taiwan Partnership Trade Exhibition at Baywalk Shopping Mall also provided another platform to take her business to another level.
"I hope to include some new soaps by early next year. I'm also thinking about improving the level of my presentation as well as making various sizes of soaps, especially for the hotels. I've already targeted some of the hotels but since the economy is not doing too well right now, everybody's looking at their budget. Sometimes they also indicate that they already have contracts with other providers," Hippolyte explains.
Currently, soaps under the KayribbeanHandicrafted Soaps label are available at R.J. Clarke Ltd, the boutique in Coconut Bay Resort and Spa in Vieux Fort, the boutique at Cap Maison Resort and Spa in Cap Estate, and Noah's Arkade at the Hewanorra International Airport.
Hippolyte also does gift baskets with soaps and loofahs for any occasion.
For more information on KayribbeanHandicrafted Soaps, contact Hippolyte at 484 1688 or kayribbean@yahoo.com.